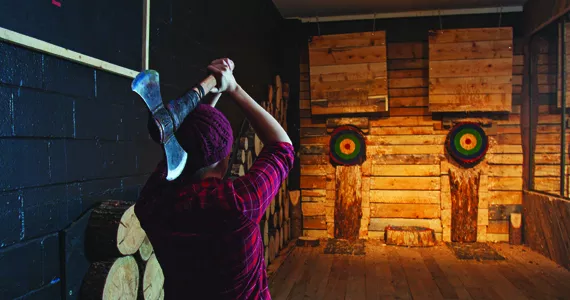 Restrictions on live music has a local business owner wondering "where is music allowed in Halifax?"
Due to multiple noise complaints, the Timber Lounge on Agricola Street is no longer permitted to host amplified shows. Acoustic performances, however, are still allowed.

Owner Marc Chisholm says the axe-throwing bar previously made an agreement with the province's Alcohol, Gaming, Fuel and Tobacco Division to stop all live music after 11pm. Last Thursday, Chisholm was presented with a letter stating that further restrictions were placed on the lounge's liquor license.

Chisholm believes most of the noise complaints are coming from one individual who lives a few doors down. "Section 29 of the liquor act is 'personal enjoyment,'" he says, referring to the "quiet enjoyment" conditions. "So if a venue is affecting your personal enjoyment of your life, which is somewhat subjective, then they have the right to complain."

Chisholm points out that while live music isn't the Timber Lounge's "bread and butter," the restrictions do impact the arts community. There's "more demand for stages" than what's available in Halifax, he says.

"Unfortunately, with the liquor board being able to pull your license really any time that someone complains, it makes it difficult going forward to invest a lot of money in soundproofing." But Chisholm emphasizes that his beef isn't with the liquor board itself: "They were put in a tough situation. They had to do something."

Marla MacInnis, spokesperson for Service Nova Scotia, says they've received "multiple complaints from three individuals" since August 2016.

MacInnis notes that if the business disagrees with the restriction, it can appeal to the Utility and Review Board. For now, says Chisholm, the plan is to wait for the new year to take another stab at hosting live music. He aims to crowd fund to cover the costs of further soundproofing—something he hopes will allow the restriction to be lifted.

"I hope the public weighs in a little bit and, you know, says if the Timber Lounge puts in an extra effort for soundproofing then they should be allowed to play music again."

An outline on the restrictions on the Timber Lounge's license are outlined below, as provided in an email from MacInnis.

A license was granted to Timber Lounge on April 27, 2016 with no entertainment restrictions. On June 20, 2017, the following conditions, relating to entertainment, were added to the license:


Unless otherwise approved by AGFT, except for New Year's Eve, all amplified entertainment must cease at or before 11 pm.

All doors and windows of the premises are to remain closed while entertainment is being offered at the premises.

The licensee shall work with their sound technician to identify ways to limit the base/low tones (reduce levels, raise speakers from the floor, use sound absorbing materials, etc.)

The main volume on the sound board is to be set at -10 or below at all times.

With the main volume on the sound board set to -10, the average sound level was 95 db inside the premises. The average sound level shall not exceed 95 db inside the premises.

The ambient sound level reading on Fern Lane was an average of 62 db. The average level on Fern Lane is at no time to be impacted/exceeded as a result of entertainment being offered at the premises.

The licensee will conduct regular inspections and sound checks of the premises and perimeter of the property, ensuring sound levels are maintained as prescribed.

No entertainment is permitted on the patio


On November 23, further conditions relating to entertainment were added to the license:


Live amplified entertainment and percussion instruments are prohibited at the premises.

Background entertainment, and unamplified entertainment with acoustics is permitted. Only vocals are permitted to run through the main sound board and house PA system.

Unless otherwise approved by AGFT, except for New Years Eve, all entertainment must cease at or before 11 pm.