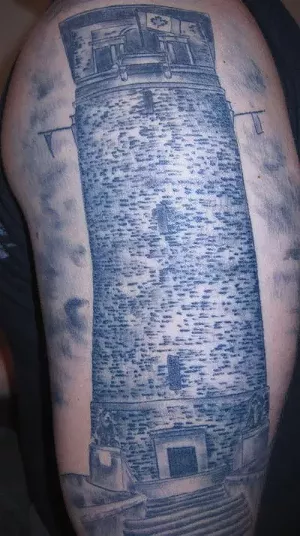 This is a Halifax Inspired tattoo, my husband [Chris Mitchell] got this done before he moved to Fredericton for school. He grew up around The Dingle in Flemming Heights and always wanted to remember home while he was away so he got this tattoo of the dingle tower!
—-Kaylyn Mitchell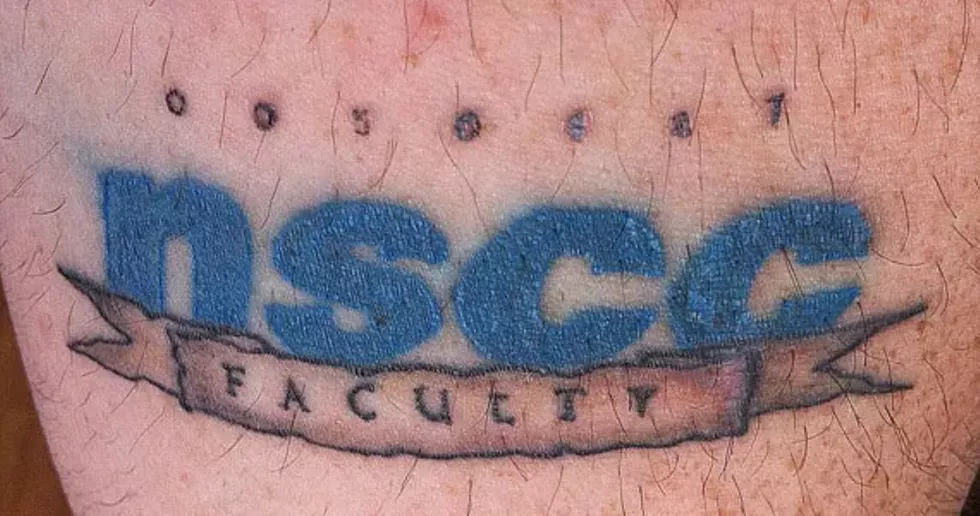 Thought this might count as a Nova Scotia themed tattoo. Showing my pride as a faculty member at the Nova Scotia Community College!
—-Chris Mogensen
I graduated from SMU in 2000 and did not want a ring. So, instead I got a tattoo of one of my favourite NS critters. The orb weaving spiders are so common to Dartmouth. They are amazing, seeing out of multiple eyes, making the strongest biological material known to man, counterbalancing eight limbs, and eating my least favorite NS critter, the mosquito. Amazing! You know this spider, you have probably seen one. They can be pretty big, brown, orange and white guys. It could not be more NS though, as I am, my bio degree is, and the spider is! I wear it proudly on my right forearm. It is my only tattoo!
—-Dave G
I am a very patriotic person, having seen the country and the world I have a great appreciation to where I come from.
Scotians are scattered all over the world, I even met one in Australia on my travels. We knew the same people. It was Awesome!
So in my musical profession, DJing for Sony recording artist Classified, we used to bring a flag with us on tour no matter where we went, some nights I would forget to bring it out of my bag, so I decided what better way to fix it than to tattoo the flag on my arm!
Kyle Leblanc from Sin on Skin and I bumped heads on the idea and the result is what you see in the picture. —-Brian "DJIV" Pelrine
In 2009, I moved to northern BC to take a bank job, and the year or so prior I had gotten a simple black Canada flag tattoo on my left arm. During a morning meeting, my new boss who had been working for the bank for far too long noticed it and began to berate me on how that is unprofessional and she didn't appreciate having to see it. I stated that during business hours I roll my sleeves down and in addition wear a blazer so no client would ever see it. This all did not go over very well.
On a return visit to NS, I decided on a new tattoo, and choose the griffin crest graphic found on the back of the old NS driver's licenses. And just for shits and giggles, made it as big as I could.
When I returned back to work after the vacation, we had a fundraising BBQ, and were asked to wear company logo t-shirts, which gave my new tattoo a glorious debut.
Not sure why but I never heard about the second tattoo, but I gathered that the size of it was enough of a "Please fuck off" message that my boss heard loud and clear. —-Geoff Kennedy
She [friend Erin Lewis] got it to keep memory of home before she moved to Vancouver in February. It's on her wrist. The ink was done by Greg when he still worked at Adept.
—-Krystina Colicchio
I flew to Halifax earlier this year to attend the Maritime Tattoo Convention and decided I was going to get something that said "Halifax." And to me, nothing says Halifax more than a donair! I designed this tattoo with my good friend and tattooist Alicia E of Trouble Bound Studio in St. John's, Newfoundland, and she made it a permanent part of my collection and a reminder of how much I love this city. —-Matthew Crowe
This is my Nova Scotia Themed Tattoo! I got it just after I turned 19 from Bonded Ink Tattoo Studios on Main Street in North Sydney, Cape Breton. Wade Bond did this tattoo for me.
For me, this was my fourth tattoo, but also, the most special to me. I got it just after my first year away at university.
I attend Wilfrid Laurier University in Waterloo, Ontario. Every time I go home to Cape Breton, coming back to Waterloo is very difficult. It's hard to leave my friends and family behind. My parents are both very supporting of me and always tell me how proud they are of me for going away to a school that is so far away from home.
I got this tattoo to remind me of all the love and support I have back home. It reminds me that Cape Breton will always be my home and that no matter what I'll always be welcome there with open arms.
The words on the tattoo read "my island" because Cape Breton will always be where I'm from. I'm a true Caper at heart! —-RikkiRene Greene
I am a proud Bluenoser—-born in Lunenburg, Nova Scotia—-where everything is nautical. Take a walk down any street in Lunenburg and if you don't see an anchor or a buoy or a fish in a store window or hanging from the lamp posts, I'll pay you a dollar. To me, Nova Scotia is a nautical place to live, a symbol of our history and our love for the sea. What do people miss when they move away from here? The ocean, guaranteed. I love the ocean when it's angry, I love it when it's calm. I love the smell, the treasures you find on its shore. I love sunny days on the beach, and I love its power. It's the best part of Nova Scotia.
I spent my twenties travelling and living around the world, and my anchor tattoo (freehand by Scott Duncan in Kincardine, ON) symbolizes that I'll always come home and that my roots will always run deep in Nova Scotian soil. Some day when I can justify staying off my feet for a few days (foot tattoos really hinder your ability to walk comfortably), I'll get another nautical tattoo symbolizing my never ending wanderlust.
Continuing with my nautical theme the start of a sleeve came next. My clipper ship was done by my longtime friend Johann Florendo in New York. There's a quote at the bottom of the ship that says, "The journey is my home" by Muriel Rukeyser who was a feminist and equality political activist and poet. The piece is about travelling and how I am at my most comfortable while exploring, but also to live in the moment. I do not sail but ships are another good symbol of Nova Scotia and our heritage. —-Gillian Hyde
Hours on the ribs. And I'd do it again.
—-Travis Dale Fletcher