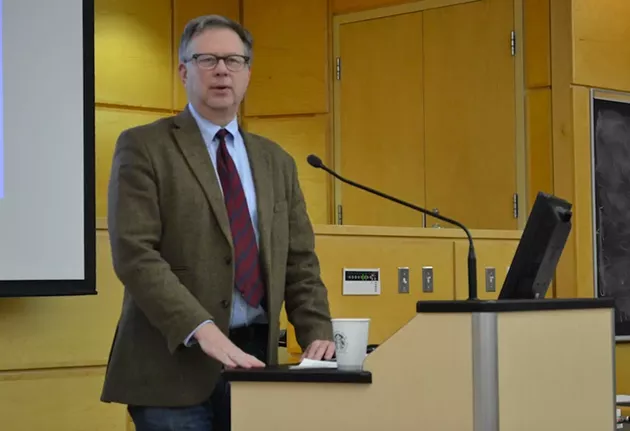 Bruce Lourie says Nova Scotia is doing an "exemplary job" when it comes to reducing greenhouse gases—but climate change isn't the only thing we need to worry about.
Lourie is president of the Toronto-based Ivey Foundation and was a guest speaker and one of four panelists discussing Canada's coal phase-out at a Dalhousie University event on Thursday evening.
In November, the federal government announced its plan to phase out coal power across the country by 2030. But Nova Scotia is getting wiggle room on that deadline, as long as the provincial government continues to reduce pollution here.
While Lourie says "coal is one of the main reasons," behind greenhouse gas emissions in the Maritimes, conversations that focus solely on climate change gloss over the other problematic effects of coal. When the push to phase out coal in Ontario began—ahead of the curve, in the late '90s—climate change was hardly part of the pitch.
"What drove the Ontario coal phase-out was public health," says Lourie. "Part of the role that I played was getting the doctors, and specifically, the Ontario Medical Association involved."
Those doctors concluded 1,600 people in Ontario were dying every year because of air quality problems.
At the time, smog was a huge issue in the province. Smog advisories were particular frequent in the summer, says Lourie, but there haven't been any since the last coal plant shut down.
Michael Sampson, with Nova Scotia Power, says coal-fired generation in this province has decreased by 31 percent since 2005. But getting off coal quickly would mean switching to natural gas, he says, when it would be better to change over from coal to renewable energy sources.
"We may not have put locks on the doors, but it's undeniable that coal's being phased out," says Sampson. "How do you get from where we are to that future and in what timeline should you try to achieve that? That's what, I think, is really up for debate for us."
But Lourie says if it's possible to reduce coal by 31 percent, it's possible to phase it out completely. His main concern is Nova Scotia not having a set deadline.
"I think it's very important to set a clear date to put certainty in the market and try as hard as you can to meet a committed date."