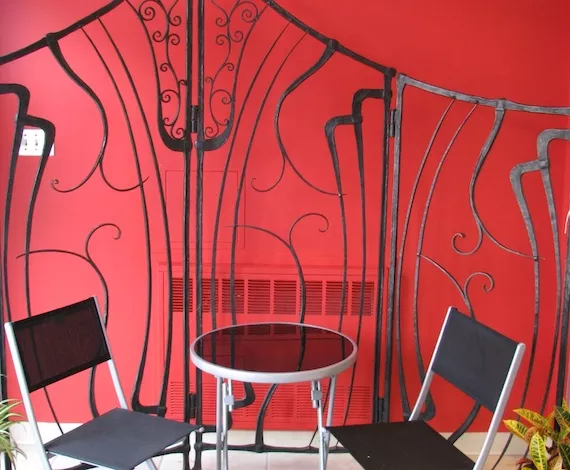 When you're feeling grungy, there's nothing like a make-over to make you feel brand-new.
The Nova Scotia Centre of Craft and Design
(1061 Marginal Road, 492-2522) can probably relate. The shop's recent make-over includes a fresh coat of fire-engine red paint in the foyer that is sure to catch the attention of customers, old and new.
Red is the theme for the redecoration, which also includes an eye-catching new sign in addition to the red walls. The sign has "Centre for Craft" in bold red writing sandwiched between "Nova Scotia" and "And Design". Just like a stop sign, all the red will have passerby pausing.
The bright red is pretty hard to miss, which is what the staff of the Centre is hoping for. Laura Chiasson, manager of the Designer Craft Shop, says, "We chose to redecorate because we had poor visibility. There is a rail car that hides our entrance".
The redecoration is the idea of Centre director Susan Charles. The process took three days and was a group effort. "Everyone who works at the Centre had a hand in the painting", says Chiasson.
The Centre, located near NSCAD and Pier 21's railcar, is comprised of the Designer Craft Shop and the Mary E. Black Gallery. The Centre aims to showcase the talent of local artists/craftspeople and the Designer Craft Shop offers local trinkets for purchase.
In the shop, arts and craft-lovers can find ceramics, textiles, jewelry, glass, ,wood, photography, paintings, prints and encaustics. In addition, the shop is now open six days a week (Tues-Fri 9-5, Sat & Sun 11-4).