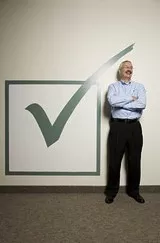 The province's primary economic development arm, Nova Scotia Business, Inc., announced today that it is dropping another $800,000 into Intelivote Systems, the Dartmouth-based internet voting firm. That brings NSBI's total investment in Intelivote to $2.8 million.
The additional funds will be use in part for "five or six enhancements" to Intelivote's voting software, says Dean Smith, president of Intelivote. Smith mentions the addition of a "candidates' module," which will allow candidates to follow the scratch-off list of voters who have cast ballots, allowing candidates to better focus get-out-the-vote efforts during the course of an election. Another enhancement Smith points to is an audio component, "so you can vote while driving in your car; the system will ask you if you want to vote for Tim, say 'Tim' or 'candidate one,' and it'll collect all that for you to approve."
Siri-tastic as that would be, the internet voting industry took a PR hit when voting in the NDP Leadership election was the target of a denial of service attack.
"Whenever I go anywhere to speak, I have to address that right away," says Smith. "I have to explain that not all internet voting systems are the same, and that different companies have better or worse procedures in place.
The NDP election was conducted by the Spanish firm Scytl, which also won the tendering process for this October's Halifax municipal elections—beating out the local Intelivote. The company was hoping to run a series of elections in Maharashtra, India, but Smith says the state government has backed off internet voting.
Despite those setbacks, Intelivote has won the contracts to conduct the internet portion of 15 other municipal elections in Nova Scotia in October, including in Cape Breton Regional Municipality, Truro, and Kentville. Moreover, the company is eyeing the potentially lucrative 2014 elections in Ontario and British Columbia, where some $18-to-$20 million in contracts are up for grabs. This is in addition to a steady stable of overseeing on-going union and corporate elections.
But what do Nova Scotia taxpayers get in return for the $2.8 million invested in Intelivote?
Smith has just eight employees, so the payroll considerations are minimal.
The real potential impact is in future return, says Smith. Technically the province's money is in the form of "convertible debentures"—that is, loans that can be converted into stock.
"We're probably a decent takeover target," explains Smith. The way he sees it, Intelivote is a relatively small firm with a successful product, and so at some point a larger company will want to purchase Intelivote. "They'll offer four times revenue, or whatever, and that's when NSBI can cash out its shares for a profit."
There are about 90 other investors, says Smith, most of who want to see an "exit strategy" of the company getting swallowed by a bigger company. In the meantime, NSBI has one representative—Peter MacNeil—on Intelivote's five-person board of directors.
I interviewed Smith for my extensive 2008 feature, which raised concerns about the safety and reliability of internet voting. We re-visited that conversation today, and Smith continues to defend the industry.
Even though his competitor Scytl is overseeing the Halifax election, Smith wants it to be successful. "We can't have someone going around doing a poor job in e-voting," he says. "It's bad for the whole industry."
As for critics of of internet and e-voting, "you're always going to have that," says Smith. "I'm not going to say they're living in the past, but their concerns are addressed."
We go on to discuss the factors leading to higher or lower voter turnout, and I tell him I expect that despite easy access to internet voting in October, I think the voter turnout in Halifax will probably go down compared to 2008. "You might be right," says Smith. "If Kelly had stayed in the race, I think it would be higher. When there are entertaining, close races, turnout increases."
I tell Smith that I think internet voting is a tiny, maybe inconsequential factor in voter turnout, and that in my view people aren't voting not because it's difficult to get to the polls, but because experience has shown them that it doesn't matter which candidate actually wins, there seems to be a different agenda at work that doesn't much involve the voters.
"I don't think young people are apathetic," says Smith. "Look at how involved young people are... they're involved in charities, the whole Occupy thing, look at Facebook causes, it's all easy—they can read The Coast on their mobile devices—so why is this [voting] the only thing they can't do that for?"