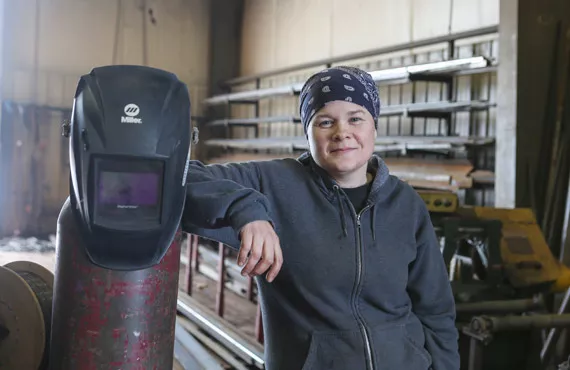 Unsure of her future, and knowing that doing unskilled labour was not a life Anne Jamieson wanted, she vowed to make a change and found a career in the trades.
She first discovered her interest in welding while attending NSCAD. Her apprenticeship actually began in Alberta, but she missed home. With Nova Scotia's commitment to apprentice mobility, Anne chose to continue her apprenticeship in Nova Scotia.
After returning to Nova Scotia, she registered as an apprentice through the Nova Scotia Apprenticeship Agency, and found a journeyperson welder willing to show her the ropes. Today she is a journeyperson and Canadian Welding Bureau certified supervisor at A & M Fabrication in Oxford.
Her drive for success doesn't end there. She's continued to push herself, and is now a Level 1 Welding Inspector through the Canadian Welding Bureau. She is also involved in the work of the Atlantic Apprenticeship Harmonization Project and, at the national level, has helped to develop questions for the welding Red Seal exam. And to top it off, she's also a volunteer firefighter.
Anne's "spirited" three year old, Reece, keeps her hopping—that is, when she isn't helping manufacture a skateboard ramp, or a Trans-Canada Trail bridge, or putting out fires.
The path hasn't been a straight one, but Anne's story shows that success is an ongoing endeavour.
She credits her supportive boss, Michael Griffin, with making it easier for Anne to balance her career while being a single parent. "He puts family first," Anne exclaims, and the care behind that sentiment is expressed in her work and in her teachings. "I tell my welding apprentices that quality is essential. I'm picky. You have to take pride in your work."