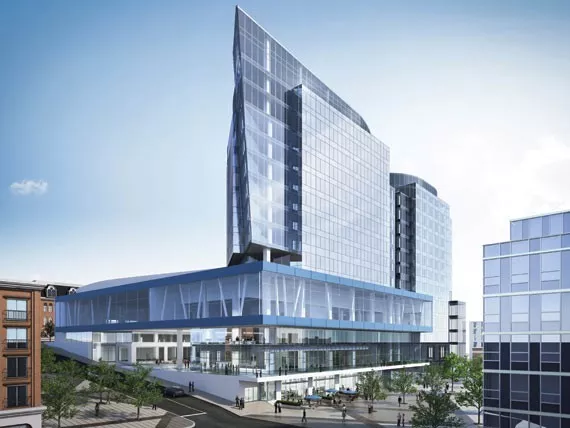 By virtually any measure the Nova Centre in downtown Halifax has already been a bad deal for the public. You can debate how bad it's been, and you can wonder how we ended up in this mess, but we can all agree that it's been bad. It's also the latest in a long line of similar disasters, each more grand and modern than the last. Nova Scotia's ruling class has often touted big, splashy mega projects as the fix for our province's economic woes.
This week the Halifax Municipal Archives
released photos of the Jacob Street area
of Halifax that was bulldozed in the 1950s and 1960s to make way for the construction of the Cogswell Interchange and Scotia Square Mall. The slum clearance project razed thousands of buildings and displaced working class families and small business to make way for the big fixes of the 1950s: a shopping mall and Escheresque overpass system meant to link
exis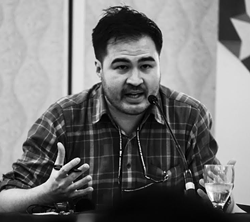 ting roads with Harbour Drive—a waterfront speedway that was
never actually built
.
City councillors celebrated the brave new future as a consumer's paradise that Halifax's dying downtown would become with the addition of a modern shopping mall and web of roads. Private developers built and owned the mall. The city expropriated and cleared the needed land and the city-scape was re-built to facilitate these new shoppers. The government would spend money, the private sector would build something huge and we'd all be rich. Unfortunately, it didn't quite work out.
In the late 1960s,
Claritone was going to make Pictou County rich
by building and exporting colour TVs. Colour TVs were going to be the big thing in the 1970s and this time we could get in ahead of the curve. Peter Monk, now a mining baron, secured $8 million public funding to open the massive Stellarton factory which shut down within five years and ended up costing Nova Scotia $25 million. Once again it didn't quite work out.
Nova Scotia's history is littered with these bold quick fixes that turn into money pits. They provide hope and a vision to sell to voters. They promise
rapid modernization
in a region that has often been
wrongly portrayed
as a backwater. The Nova Centre is the latest big, modern structure that isn't quite working out. It's years behind schedule, is putting
downtown businesses
at risk and has now dragged
all three levels of government
into a lawsuit.
The truly bold and innovative thing about the Nova Centre is that it combines the failed mega-project model with the failed private financing model that is often called P3, or Public Private Partnership, financing. When the building is completed, it will be owned by the private, for-profit builder and leased to
Trade Centre Limited
Events East
, a provincial crown corporation, for 25 years. Despite our federal, municipal and provincial governments contributing a total $163 million towards the construction of the building, the will public never own it.
Private financing and management deals are supposed to be better able to deliver public projects efficiently and on time, but they don't. The Nova Centre is proof of just how off schedule these project can go, particularly when the original contract includes no penalties for the builder
missing deadlines
. They're also supposed to save the government money, even though we have overwhelming evidence from across the globe that on average private financing schemes cost governments
more and deliver less
. This financing model was used by Nova Scotia to build schools in the 1990s—guess what?
That didn't exactly go well
.
So how did we end up in this mess? When you combine a funding model that is designed to generate private profit with Nova Scotian politicians' desperate need for big, splashy fixes you end up with a disaster.
The question we need to start asking is when will our elected officials stop making the same mistakes?
———

Opinionated is a rotating column by Halifax writers featured regularly in The Coast. The views published are those of the author.