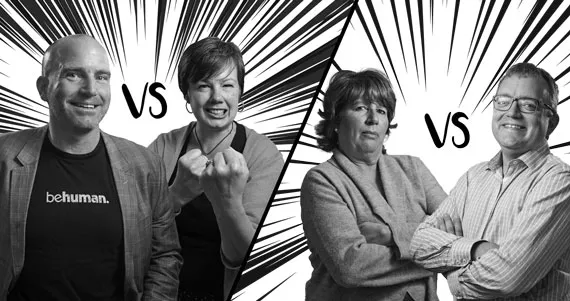 This will be the only time Donald Trump is brought up while talking about HRM's election. Promise.
The tire fire of hatred that Trump so expertly stokes in the American presidential race seems a million miles away from the municipal contests being fought in Halifax. This is a place where the four declared candidates (at the time) for District 8 signed each other's nomination papers. It was an Instagram-friendly moment atypical to the mudslinging that's come to be expected in political theatre.
It's not all puppy dogs and selfies, though. Some candidates in this election are quick to point out their opponent's flaws, while at the same time stressing that they themselves are running a positive campaign.
Take Matt Whitman, for example. The incumbent councillor and human Twitter parable insists his campaign in Hammonds Plains—St. Margarets is based around being thankful, positive and constructive. The same can't be said about his rival, Pamela Lovelace, he adds. She's a "glass-half-empty" kind of person, says the positivity-preaching deputy mayor.
"We're not friends," Whitman says. "I don't think we'll be friends after the elections. We're not similar. We come from opposite ends of the spectrum where she's upset first, and maybe informed later."
Lovelace has a different take. The marketing and communications professional has been critical of Whitman's political track record and his habit of blocking people on Twitter, and even FOIPOP'd the councillor's emails to find out what he was writing about her to staff and constituents. So, yeah, there's some animosity between the two.
"He doesn't like me because, I guess, I'm not a fan," says Lovelace. "That kind of behaviour of shutting people out because they're not part of your fan base, that's not very mature."
A similar resentment is boiling over between the two frontrunners in Halifax South Downtown.
"There is nastiness out there," says challenger Sue Uteck. "I just choose not to go there....That negative energy, it'll just make you ill."
Uteck was unseated by then-rookie candidate Waye Mason in 2012's election for the newly-created District 7. There wasn't as much antagonism in that campaign, says Mason, because Uteck didn't believe he would win. Uteck disputes this, saying she was nothing but cordial to Mason after her loss and even showed him around City Hall.
That was then, and this is now. Mason says he's running a clean campaign, but Uteck (he says) is spending her time throwing shade while canvassing doors.
"That is not useful," says Mason. "It doesn't make Halifax a better place." Uteck says it's the exact opposite. She's the one running a positive campaign, and Mason—and his supporters online—are the ones talking trash.
"I look forward to a time Sue unveils a platform and talks about actual solutions," says Mason, "because I'm not seeing that. I'm seeing a lot of noise."
"Between the two of them there's definitely a history there," says Dominick Desjardins, who's also running in District 7. "Standing in the middle of them, it's like...there's definitely some disdain there."
That conflict might just be part and parcel with running in an election. The convivial nomination paper signing support in Peninsula North could just be the exception that proves the rule.
"Out here, we don't have that camaraderie," says Whitman. Lovelace is "out to make me look bad every chance she gets."
And she's had quite a few chances. Lovelace says it's a "slap in the face" that Whitman hasn't yet put forth a platform to voters and claims the deputy mayor displays a "real lack of values and transparency."
"My platform is the last four years," counters Whitman. "Her platform is hypothetical."
More of that positivity and constructive feedback. It's a passive-aggressive approach to mudslinging. Candidates can boast about taking the high road, while still getting in a few punches about their opponent's dirty tricks.
"Some people say she's bitter," adds Whitman. Some people.
As Donald might say: Sad!