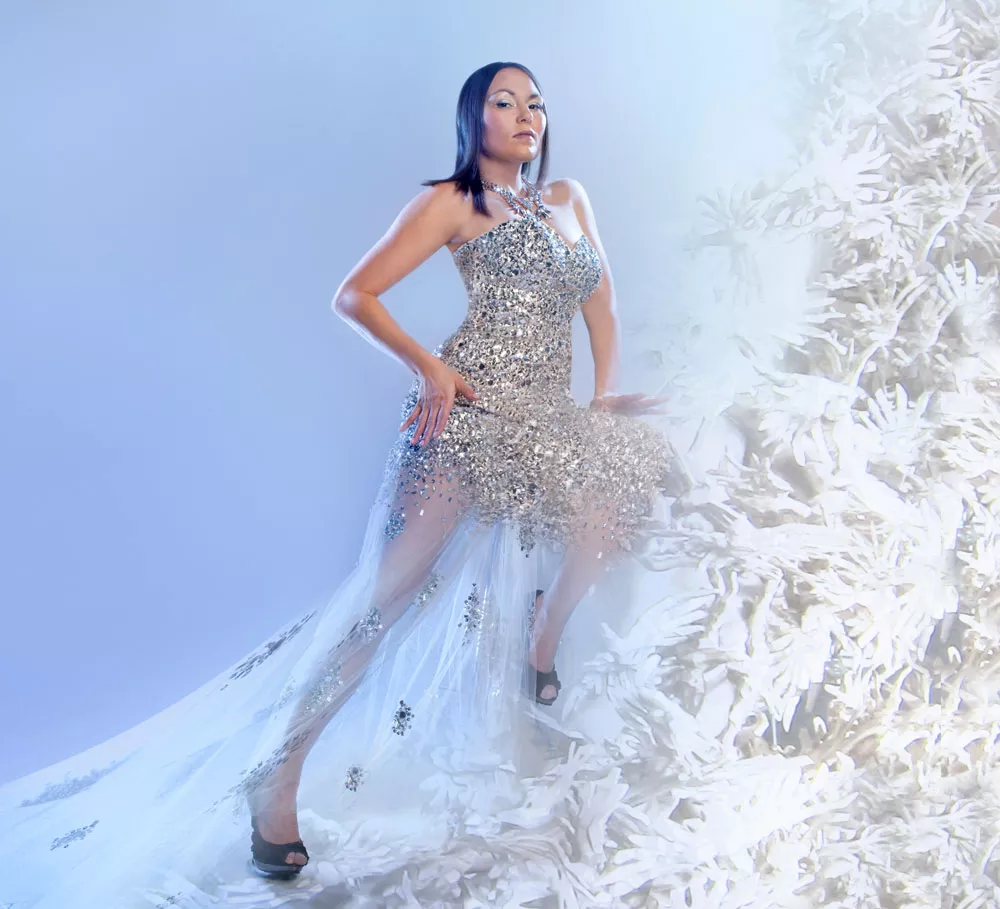 "People forget that we are alive," says Tanya Tagaq. The Inuk throat-singer from Cambridge Bay, Nunavut, has been performing her unique style of traditional throat-singing for over a decade. For In the Dead of Winter, Tagaq will perform her original score to the 1922 film Nanook of the North at the Rebecca Cohn Auditorium on Friday.
"It's a silent film, so it's really fun to do the score live," she says. The Toronto International Film Festival commissioned the project in 2012. A two-time Juno Award nominee and three-time Canadian Aboriginal Music Awards winner, Tagaq was the perfect choice.
"It's a really good concept and it creates a lot of thought," she says. For the performance, Tagaq watched the stark, black and white docudrama by ethnographist Robert Flaherty four times to compose accompanying melodies. She sent her work to Canadian composer Derek Charke, who then created a track of field recordings from Nunavut that forms the structure of the piece.
"That's the skeleton to do the meat around," says Tagaq, who then improvises. After TIFF, Tagaq realized more people needed to see it. Halifax is one date of five across Canada.
"It's such an interesting juxtaposition between the stereotypes and visuals surrounding the graphics of the film from 1922 with, you know, a modern non-traditional Inuk doing the sound," she says. "We enjoyed performing it so much that we didn't want to stop performing it."
Tagaq is excited to return to Halifax, where she completed her BFA at NSCAD from 1994 to 1998, the time in which she began practicing throat-singing. She was homesick and her mother sent her tapes of local singers; Tagaq was inspired to perform the art in her own way.
"The first five years, I was self-trained. Then over the years, I began meeting traditional throat-singers who have been awesome enough to teach me traditional songs so I can sing traditionally, as well," she says. Her particular style is innovative and separate from tradition.
"People in my own culture are really unhappy with what I do," she says. "I mean, more people support me than don't support me, but I do get a lot of hate and anger from people because I'm not performing traditionally, but I understand that." Her approach is unconventional.
In Inuit culture, throat-singing was performed by two women as a game or competition while men were away, combining voiced inhalations and exhalations with increasing rhythms.
"The songs are like puzzle pieces, and you're fitting together the sounds," she describes. "It gets more complex and quicker and you have to be very fast to switch the songs, to follow the leader and become the leader. It's both a mental competition and a physical competition, to see who will run out of breath first. It was basically a form of entertainment, and that's why I had to pull away from it and do it in my own way, because it had a lot more meaning to me personally."
As an artist, Tagaq is interested in the strange and macabre, which comes across in her performance. She has seen a massive reaction to her performance as a woman in wider culture.
"Traditionally in Inuit culture, there was no shame in sex, for example, it wasn't dirty or wrong. It was beautiful. Then came Christianity and all that bullshit with embarrassment and sin and guilt but right now, when you're true in your femininity, when you're giving birth, or you know your body to really enjoy sex, and when you're really smart and wise enough to raise your children and take care of those around you, that requires a lot of strength. You'll have such incredible intelligence and intuition and all this beauty of being a woman, and I find it very strong for me. I love expressing that strength and the fierce nature that has been suppressed in us.
"The reason I do music and perform is to find a balance in myself, then to find a common denominator with everyone in the room at the moment, to see how far away from reality we can get and, in actuality, how close to reality we can get. People forget to cherish the moment. If you're emotionally, physically and mentally well, you're the richest person in the world."