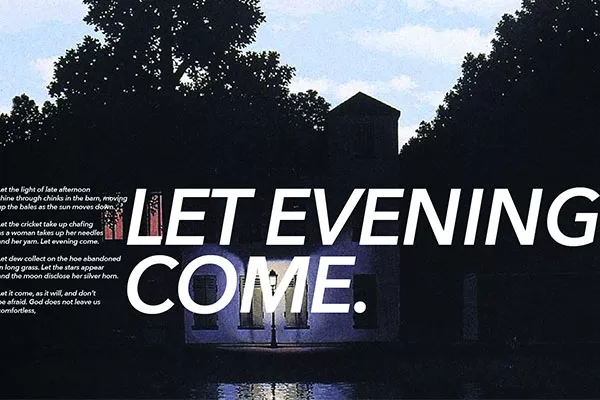 Exhibit 505
Downtown Dartmouth Business Commission
163 Portland Street
Dark and mysterious, peaceful and joyous: The evening holds a special place in all of our hearts. On the night of Nocturne, Let Evening Come invites you to explore the sentiments accompanying this magical time through music, drama and more.
Inspired by Jane Kenyon's poem of the same name, Let Evening Come is a multidisciplinary art installation which uses classical scores, theatre and environmental design to bring the spirit of the night alive.
"We were really struck by the poem—it was visual and evocative," says artistic director Jacob Caines. "Jane isn't Nova Scotian in the slightest, but it felt very Maritime-y— we tried to find music and text of the earth that felt natural and organic."
Turning a parking lot into an immersive and earthy forest, visitors will be treated to interactive performances by actors who will guide them to a serene concert space. And it's a different experience every time, with micro-concerts running every 20 minutes playing late-romantic classical offerings from the likes of Strauss, Grieg, and Debussy—accompanied by songs and original poetry.
Caines, whose installation includes a team of six actors, three musicians and layers of pre-recorded audio and sound design, says all of the combined elements are meant to evoke feelings from each and every participant.
"We really hope they bring whatever evening means to them to the experience—it can be anything," says Caines. "People who came to our last show found it calming and ethereal, while others found it creepy and jarring."
Ultimately, Caines hopes visitors enjoy the sensory experience, but also take a chance to reflect and learn something. "I hope they return to Nocturne with different thoughts than what they came in with," he says. "We try to create a beautiful, calm and lush experience, so I'm hoping that's what's people feel when they leave."