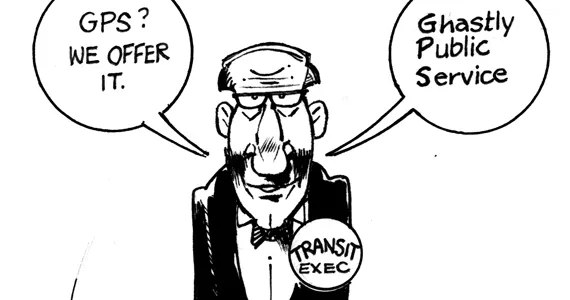 Metro Transit misses the bus again: Real-time schedule information is available to managers, but sharing it with riders has no arrival time.
In a stunning display of bureaucratic tin-ear, Metro Transit is completely failing its riders. At issue: real-time scheduling information that can be accessed through a web interface and mobile phone apps.
The need for such a system is obvious. We live in a hilly city with narrow streets and crappy weather, so inevitably buses will often fall off schedule. That's understandable. But late buses leave riders standing on the side of the road, sometimes in a snowbank up to their knees, suffering through ice pellets blowing horizontally into their faces.
Hundreds of other cities already provide real-time scheduling---GPS locators on buses show exactly where each bus is, and riders can see that information on a website or through cellphone apps that predict the time a bus will arrive at any given stop.
If Halifax had such a system, riders could sit comfortably warm in their homes, their offices, at the bar, whatever, check the real-time info and give themselves just enough time to dart out to the stop without waiting overly long in the elements. Existing riders would be happy, potential riders would be more likely to take transit and ridership numbers would soar.
Metro Transit has been tinkering with its problem-plagued GO Time system for at least five years and still can't get that 1980s technology right---I haven't seen a working monitor at a terminal in months and, while "progress" is reported, only about a quarter of the stops provide real-time information at any given time, and it's anyone's guess which stop is real-time and which is simply scheduled time, which is often incorrect in any event. So are web interfaces and cellphone apps simply beyond Metro Transit's capabilities?
Actually: no. I was surprised to learn recently that there already exists a web interface showing exact locations for each and every bus. Yep, there's a computer monitor at Metro Transit offices that relates that information to managers---and that system has been in place for years. They just don't make the information available to the public.
"That's certainly something that we are interested in doing, and that's in addition to adding some other communications like Twitter and Facebook," explains Metro Transit's Tiffany Chase. Wow, the better-late-than-never mentality is really baked into Transit's DNA.
Anyway, Chase goes on to explain that Metro Transit is holding off on making any decisions about web interfaces and mobile apps in anticipation of an upcoming report...on accessibility. You can comment on these matters at a series of public input sessions.
That's right, if you want Metro Transit to provide an app with real-time positioning of buses, you're supposed to go to a meeting nominally about access for people in wheelchairs and the blind to voice your concerns. Oh, and the meetings have already been held.
But fear not! The presentation given at the public hearings is available on the city's website. "People do have the opportunity to review that, and then provide their comments via email or to call into the call centre---the intention is outlined through the presentation," says Chase.
Here's how you find the presentation: Go first to halifax.ca, the city's notoriously poorly designed website. Then, under "Top five links," click "Metro Transit Schedule and Route Information." On the next page, scroll down the lefthand menu and click on "Accessible Low Floor" because, well, just because. When that page opens, scroll down to "Universal Accessibility Study Presentation," click that and read the entire presentation, which says not a single word about web interfaces, mobile apps or real-time information. That's right: the accessibility study is itself utterly inaccessible.
And note you can't email or call Metro Transit directly to ask for GPS scheduling info---you can at best email the city's general account (I have no idea what that address is, as it's not easily found on the website) or phone the city's call centre, 490-4000, the same number used to report wayward cats and to ask about swimming pool hours.
Metro Transit apparently doesn't want to bother with real-time scheduling at all. Instead, Transit managers merrily continue to take their customers for a ride.