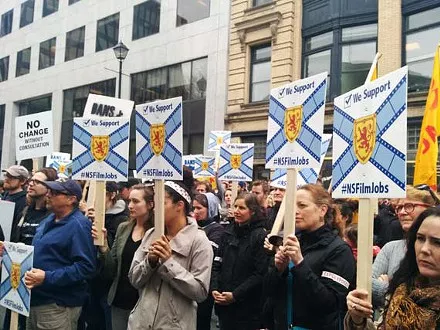 Well, the province has finished crunching the numbers and this year's budget thankfully won't see any more cuts to the film industry. But it won't be fattening up its wallet either. The Film Incentive Fund remains unchanged, still capped at $10 million despite the chilly reception from both the industry and the public since it came into effect.
After axing the Film Tax Credit last April, the province implemented the Nova Scotia Film and Television Production Incentive Fund. This fund allows productions to claim 25 percent of all production costs incurred in Nova Scotia. The previous tax credit covered up to 65 percent of labour costs.
About a third of the Film Incentive Fund's $10 million was awarded over the last year. That's prompted some film workers to call for the province to roll over the unused portion of the Incentive fund to attract bigger budget pictures to Nova Scotia. But those calls were ignored in Tuesday's budget.
According to the budget address, the province is still honouring productions that began before the July 1 cut-off date for the Film Industry Tax Credit, stating "tax expenditures are expected to continue to occur in the 2016–2017 fiscal year, and until the 2018–2019 fiscal year."
Off the film set, the arts are faring a little better. The creative economy will receive $2.5 million "to support our artists, musicians and publishers," according to the budget.
The province is also investing an additional $500,000 "for major events hosting." Scott Long, executive director with Music Nova Scotia, says he was pleased with the news. "It was definitely more than we were anticipating."