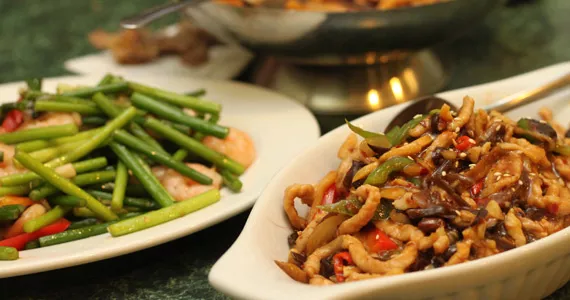 The number seven apparently has nothing on the number nine in terms of luck and prosperity, and 9 + Nine seems to take that to the next level---a mathematical formula to tap good fortune on the shoulder. Tucked into the same Clayton Park strip as Monsoon Cafe, 9 + Nine is your typical small restaurant. The inside is painted a soft mint green with a dozen tables jammed into the small space. A tiny counter takes up the corner near the kitchen door. It's pretty unremarkable.
What is remarkable is how busy it is. We arrive at 7pm to an almost-full restaurant. For the almost two hours we're there, there is a constant stream of people are coming through the door. We're seated right next to it, blasted by chilly air every two minutes as the door cracks to life once again. A hum of conversation and a bustle of activity fill the small space as a server brings steaming dishes to table after table.
Near the counter, a television screen plays a continuous loop of food photos. They look amazing. We ask after some of the dishes, but are told that most are for show. Conspiracy theorists, we speculate that there is a secret house menu, and concoct a fantasy that homemade noodles and shrimp-shaped fish will be in somebody's belly tonight.
From the actual menu, we choose fried buns ($8.95), a half-order of country chicken ($8.95), salt and pepper squid ($13.50), Szechuan shredded pork ($10.50), Shanghai noodles ($9.50) and steamed rice ($1.50).
After a short wait, our server comes back to let us know that they are out of fried buns. We ask if he thinks our order really calls for a replacement, and he says we have plenty, so waves it off. A little while later---it's quite a wait---we are informed that the kitchen is also out of salt and pepper squid. Disappointed this time, we take a quick look at the menu, spot an amazing-looking dish delivered to the next table and replace the squid with garlic stalk with shrimp ($11.50).
Our food slowly trickles out of the kitchen in a staggered fashion. First we are given the country chicken, a rustic pile of cold chicken meat---shredded and served as-is with the rubbery skin and bones left in---covered with a heavy sprinkle of raw garlic. The sauce is a simple soy sauce mix with a hint of sweetness to it, simple and wonderful with the heady kick of potent garlic. It's a great start to the meal.
A few minutes later our noodles are delivered. They are also delightful. Lithe slices of onion and pork are mixed in with the thick yellow noodles. They are really tasty, especially with dollops of the fiery chili oil that sits in a little jar on the table.
The shrimp and pork are delivered in a one-two punch. The shrimp and garlic shoots are heavenly; the bright, toothsome shoots have sweet depth of garlic without any of the bite and the plump little shrimp are tender and delicious, making for a naturally sweet, incredibly fresh-tasting dish.
The pork pales in comparison to the other dishes, not because it isn't excellent, simply because there had to be a least favourite. The sauce is mild and a bit forgettable. The mix of tender pork, chewy shiitake mushrooms, crisp green and red peppers and pop of heat from slices of birdseye chili peppers is good, but not amazing. Our steamed rice, meanwhile, goes almost completely ignored, a safety net order that proves unnecessary in what has turned out to be a highflying meal.
As we eat, there is an extended moment when every table seemingly has food and the restaurant actually quiets as everybody turns their attention to eating. That's not good luck; that's great food.