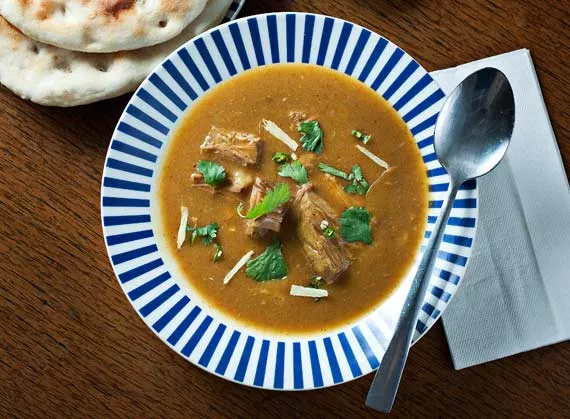 Serves 3-4
Ingredients for step one
1 lb of boneless shank beef, cut into 6-8 pieces
5 tbsp oil
3 tbsp flour
1½ tsp salt
1 tsp ginger paste
1 tsp coriander powder
1 clove of garlic, crushed
½ tsp red chilli powder
½ tsp pepper
¼ tsp turmeric
Spice mix for step two
2 tbsp fennel seeds
2 tsp coriander seeds
½ tsp black peppercorn
½ tsp cumin seeds
8 pods cloves
2 pods cardamom
1 pod black cardamom
1-inch cinnamon stick
a pinch of nutmeg

---
Method
Step one Fry meat in oil on low heat for five minutes and add all spices above. Add some water and mix. Mix flour into a cup of water dissolving any lumps. Add this to the pot slowly while stirring well and bring contents to a boil.
Step two Grind all spices to a fine powder and add them, and four to five cups of water, to the fried meat from step one. Cover the pot and let simmer on low heat for four hours until beef is tender, stirring the contents occasionally.
Garnish with green chillies, coriander leaves and ginger all finely sliced. Squeeze some lemon on top and serve with naans.