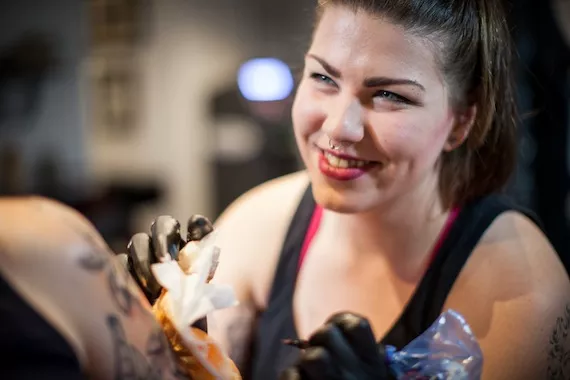 While women fight a battle to stay alive, their struggle against breast cancer is often diminished in patronizing media campaigns that aim to "save the boobies." But being sexualized is a hell of a lot different than being able to feel sexy. Which is why for many women, reconstructing their bust can be an act of individual empowerment.
Helping along that process is Newcombes Ink. The Sackville Street tattoo and piercing studio announced last week it will offer nipple and areola tattooing, free of charge, for breast cancer survivors who have received mastectomies. Shop manager Claire Savard says Newcombes' artists were brainstorming potential charitable efforts when the idea popped up.
"Doctors will provide everything for reconstructive (breast) surgery for free except for that," she says, estimating the normal cost of a tattooed set of nipples to be around $200. "We decided that's not fair. I know if that happened to me, I wouldn't want to have to pay for it necessarily just to feel whole again."
While mastectomy patients don't pay for their reconstructive surgeries, the process can be long and complicated. Though optional, the creation of a new set of nipples and areolae can become the final conquest over the disease that scarred the patient's body.
"The tattooing is just the icing on the cake," says Breast Cancer Action Nova Scotia executive director Barbara Thompson. "By the time you get that done and the tattoo artist stands you in front of a mirror---it's just an incredible experience. The first time really that you feel whole."
Thompson, herself a breast cancer survivor, paid out of pocket for her tattooing years ago. Despite the costs, she says the psychological benefit was "huge."
"When I went through it, people kept saying it was more surgery. But I really wanted to do it for myself. I was a young woman. When I took my children out swimming, I always felt self-conscious...I just wanted to be balanced again."
Like any other tattoo, a decent nippling should be well-planned. Artists will mix colours and pigments to find matching skin tones. Shading and 3-D techniques can be used on everything from the nipple itself, to the goose-pimply Montgomery glands.
That doesn't mean getting inked is the right choice for everyone. Thompson says plenty of women aren't concerned at all about reconstruction, remaining proud of their bodies even after surgery. Currently, less than 20 percent of mastectomy patients in Canada opt for reconstruction. Those numbers have been increasing, partially due to campaigns like the Canadian-created Breast Reconstruction Awareness Day which took place on Oct. 16.
Newcombes hasn't had anyone take them up on their free service yet, though Savard says they've had an expression of interest from a few patients still healing from surgery. There's no rush, though, as this isn't a limited time offer.
"As long as we can manage it, we'll be doing it," Savard says, while mentioning that customers need not be limited to photorealism. "We would provide the standard, realistic nipple. But if they wanted anything crazy, like a shape or a kitty cat face, that would not be an issue at all."
"It is just a cosmetic procedure," she adds, "but sometimes we all need a little bit of something to all feel like ourselves again."
Breast cancer remains the most common cancer diagnosis among women in Nova Scotia, with nearly 800 incidences reported each year. BCANS' resources and support network can be found at bcans.ca. Newcombes Ink is located at 5187 Sackville Street, and can be reached at 405-7080.