Kevin Saccary
of
New Scotland Clothing Co
. wants his upcoming brewing company to reflect the same qualities as his clothing venture: "We strive to make a really high-quality product, locally-focused."
Kevin co-owns New Scotland Clothing with his brother Scott Saccary, and the pair are teaming up with brewer Mike Gillespie for New Scotland Brewing Co. The idea of making beer under the New Scotland brand started floating around not long after the clothing line initially launched.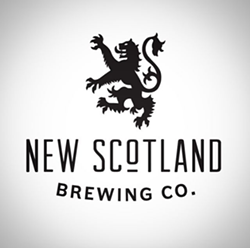 "We just always pictured being in a local Nova Scotia pub or something and having our rampant lion symbol on top of a tap," says Kevin. "We always envisioned that and that was always driving us to try to do this."

After some research, the Saccarys discovered that there was a New Scotland Brewing Co. in Pictou County—but it no longer existed, so they were free to trademark the title. That was more than two years ago.

"So it's been almost a three-year idea that's finally coming to light."

The Saccarys recently secured a location for their brewery and taproom (91 Alderney Drive), which Kevin says was their biggest challenge. They're next steps are ordering equipment, executing their floor plan and getting the ball rolling in hopes of an early July opening. "You can come in and you're literally going to be sitting and having a beer—probably next to some fermenters." explains Kevin, describing the open concept. It won't be a full-fledged restaurant, but there will be snacks and sandwiches available. On top of that, there will be a stage for acoustic entertainment.

Prospective customers can expect a slew of traditional Scottish beer on offer, as well as a cider and other signature beers. "We're going to be dabbling in other things too, but we haven't fully nailed those plans down yet," says Kevin.