click to enlarge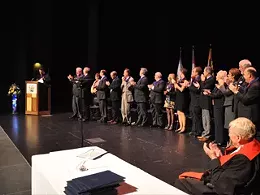 Correction:
Justice Heather Robertson was not appointed by John Savage. Rather, she was appointed by the federal minister of Justice on the recommendation of a federally appointed commission. Robertson was, however, a family friend of then-retired premier John Savage.
Original article:
Out with the old council, in with the new. Tuesday evening saw an anti-climatic near-end of the recent city elections, as newly elected councillors took the oath of office. We say "near-end" because while the winner of the District 3 council race has been officially announced---Bill Karsten bested Jackie Barkhouse by 68 votes---a resident of the district has asked a court to order a recount. The resident missed the legal deadline for a recount, so it's unlike the court will agree to it, but the city elections office held off on swearing Karsten in, just to be on the safe side. A formal resolution, and a swearing in of Karsten, is expected before next Tuesday's council meeting, the first for the new council.
The swearing in ceremony was predictably ritualistic, with bagpipes and patriotic songs. Chief administrative officer Richard Butts, a resident of Toronto, presided over the proceedings, and provincial justice Heather Robertson administered the actual oath. The choice of Robertson was interesting: Robertson was appointed by premier John Savage, the father of newly elected mayor Mike Savage. Robertson's appointment was controversial, because she had been a fundraiser for the election campaign of premier Savage, and then-justice minister Anne McLellan lobbied the judicial appointment committee to reverse it's "unqualified" assessment of Robertson. In the wake of Robertson's appointment, one committee member, justice Nancy Bateman, resigned in protest.
Regardless, Tuesday's ceremony went on without a hitch. At the last swearing in four years ago, one of the councillors was rumoured to be considerably past the point of tipsy, but this time around all seemed relatively sober. None fell down or slurred their words, anyway. Mike Savage gave a polished version of his campaign speech, then wrapped things up quickly, noting that everyone wanted to rush off to watch US election results.