It's been seven—maybe 10—years since
Neptune Theatre
has had a
Props and Costumes Sale
but this weekend its ready to part ways with some treasures.
"It's a dusty old job but we have to make room. We have a new artistic director with different ideas and different tastes and we have to make him some space," says Neptune's
Andrew Cull,
who spent his week deciding exactly what goes and what stays. He says the sale will consist of a little bit of everything—props, costumes and wardrobe from productions past, industrial lighting, materials and loads of furniture. It'll be wild and weird and priced low—like yard sale low.
"It's like, which parts of
Beauty and the Beast
will survive another 15 years and which parts we should get rid of now?" says Cull. The sale takes place at Neptune's prop storage building at
2245 Creighton Street, Saturday September 15
from
9am to noon
, and could be a total goldmine for students in need of cheap (and vintage) furniture, drama teachers looking to build one hell of a tickle trunk or just curious folks who want to rummage through on-stage history.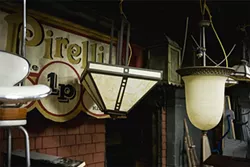 "Sometimes it's hard, it's like letting go of your babies. You worked hard—we spent a lot of person-hours on intense design work, but we just know its so specific that we're not going to do the show again, or rent it out or the design is unique for our theatre," says Cull. "Sometimes we just have to say, 'How common is that?'"