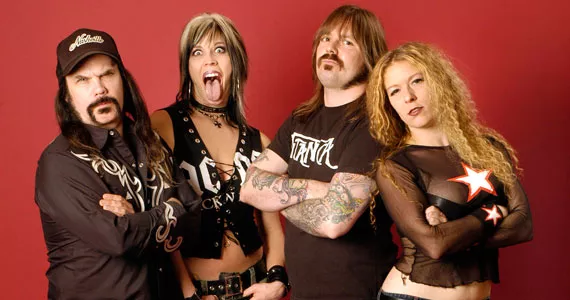 Atlanta, Georgia-based rockers Nashville Pussy are known for their songs about getting drunk, getting high and having sex, not to mention their raucous, boozy live shows, but that doesn't mean touring is all crazy, all the time. "It's pretty boring," says guitarist and vocalist Blaine Cartwright, on the phone from Oshawa. "We're all crammed into a bus and sit around watching baseball and drinking. Everyone's kind of old and married and shit." (Cartwright and guitarist Ruyter Suys are husband and wife.)
Their 22-date, coast-to-coast Canadian tour has been successful so far---and cold. "Our drummer didn't bring a coat," Cartwright says sadly, when relaying the sub-zero temperatures in Edmonton, but adds that the shows make up for it: "I think Canadians like rock 'n' roll more than Americans do."
On this tour, fans can pick up a re-release of the 2009 album From Hell to Texas, which has been remixed and remastered. Cartoon renditions of the band members wield guns and bite sticks of dynamite on the cover, and a bonus disc of live recordings from across Europe has been added for good measure. Hell was recorded at Willie Nelson's Texas studio. "We hung out with Willie and smoked weed," Cartwright says. "That was cool." Cartwright is the primary songwriter, while other members "throw in their two cents." So where does he get his ideas for songs like "I'm So High," with its line "I'm gonna get wasted in the stratosphere, then take a shit on the moon"? "Stuff that people say and stuff that pops in my head," he says. "I steal lots of stuff."
Over the past 15 years, Nashville Pussy has recorded six studio albums, been through three bass players, and earned a Grammy nomination for Best Metal Performance. Even after this many years of relentless touring, Cartwright sounds upbeat. "Touring is easy," he says. "It's only hard if you make it hard. It's just fun. We all get along really well." This is their job, and the band treats it as such. As Cartwright says: "The house isn't going to pay for itself."
Nashville Pussy w/ Supersuckers, Sunday, May 6, 10:30pm, Michael's Bar and Grill, 6100 Young, $27.99 at sonicconcerts.com