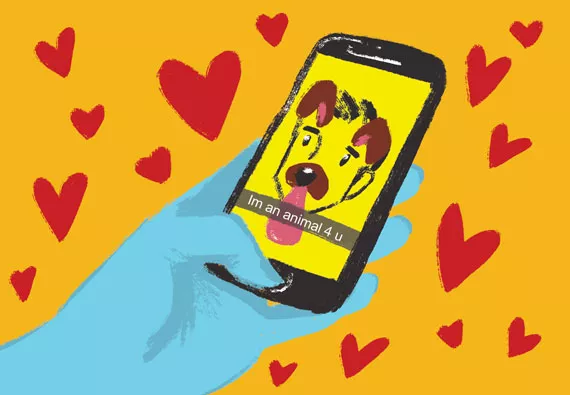 My relationship with my Snapchat boyfriend is the most fulfilling—and in some ways, the most honest—relationship I've ever had. It's also been going on for more than a year, which qualifies it as one of my longest relationships. It's definitely the most sexually satisfying.
What in the actual hell.
Part of me wonders if I should call a therapist. Not a very big part. As society changes, relationships change, right? Completely digital relationships are wildly different from the traditional relationships we
recognize
, so
naturally
there's a tendency to think of them as less real or important. But we all have online friends these days, whether it's on Reddit or Twitter or Facebook. Those relationships are real, but all the societal rules about how they fit into the rest of our lives haven't been defined yet.
One day I sat down next to a normal Halifax guy at a meeting downtown and somehow he grew into an integral, digital, part of my daily life. We live in different cities now. He's smart and athletic and hard-working. We talk about politics and recipes and other trivialities. No, we don't know each other the way you know someone you live with—and thank god for that.
It's great orgasms and someone to talk about your day with. And it's only when it's convenient. If I'm not into it, I turn off my phone. Why should I feel guilty about that? If you think I should be putting up with more of the bullshit of a real relationship because I'm missing out on some depth, well—thanks, but no thanks. The trade-off isn't worth it to me right now.
I'm happy to have a Snapchat boyfriend who lives inside my phone. I don't have to meet his dumb friends, and we're never going to argue about how to load the dishwasher. Real life doesn't get in the way.
If we do argue, it's because we're trying to figure out the ground rules. We know our tangled-up in-the-cloud sexual friendship thing is not the norm, and it gets weird when we start dating other people. Is this like porn, where you don't have to disclose? Or is it more like that ex you still kind of talk to? Would we date if we were in the same city? I'm stalling to find
out,
because this situation is so perfect.
When I orgasm, it's deeper, different. It's never routine because it's always safe to try something new; to push a little further each time. If the other person doesn't like it, it's gone in one line, disappearing into the white void (and a server somewhere, but at least we don't need to have a whole awkward conversation about it). Am I mostly fucking myself? Yes, with a little assistance. Am I better at it than most men because I know my own body? Of course.
I wouldn't even
sext
my last boyfriend. I've never sexted anyone before. I'm loyal to him, my Snapchat bf, and that's why it works. I need that emotional connection. He can turn me on with one line of chat so immediately that I'll put down my book and take off my pants. He's so in-tune with what I like that sometimes he feels more like an AI, tracking all the porn I like—all the incognito Google searches—and pulling them into our conversations.
Every once in awhile, we pledge to stop. But we always find ourselves back there within days, sometimes hours. An innocent little winky-face is only two snaps away from a ridiculous exhibitionist fantasy or whatever we're toying with that day. I write things I'm a little nervous about, having no idea how they will be received, cringing as I hit send. The response is almost always positive. Who knew Snapchat would be my favourite safe place, where I feel comfortable sharing all my fantasies, anxieties, silly jokes and details of my day without fear of judgement or consequence?
If this is the future of relationships that Spike Jonze was trying to warn us about with Her, I don't feel sad about it at all. Sure, there are trade-offs, as with any change in technology and relationships. But some people are happy to make those trade-offs.
——— 

Voice of the City is a platform for any and all Halifax individuals to share their diverse opinions and writings. The Coast does not necessarily endorse the views of those published. Our editors reserve the right to alter submissions for clarity, length, content and style. Want to appear in this section? Submissions can be sent to voice@thecoast.ca.