For the 20 years we have lived in our house on Tulip Street, we have only thought of that strip between the road and the sidewalk as a place to put our garbage for collection. It is a bit of hard sod that gets trampled down in the summer and torn up by the sidewalk snowplow in the winter. When the leaves of the battered elm tree that survived Hurricane Juan appear, the grass the city planted struggles to grow in the shade. As far as we knew, the strip didn't have a name and it wasn't worth looking at unless you were cleaning up dog poop.
It turns out the strip has many names---in the UK it is called a verge (who knew?).
Last year we noticed a splash of colour on the verge in front of a house up the street. Someone we didn't know from the other side of Maple had planted tulip bulbs the previous fall. The sudden brilliant first blooming in spring caught us by surprise. Tulips on Tulip Street! What a concept!
That simple concept started to spread when Sam Austin, the tulip guy from up the street, turned up at my doorstep one night canvassing for signatures to support his pitch to the Awesome Foundation to buy bulbs for the whole street. Over 70 percent of the street gave their support. Then Sam, with his trademark boyish charm, delivered a winning speech in a Dragon's Den-style showdown against other proposals.
Thus, Tulipmania came to Dartmouth.
Others wanted in: Gloria McCluskey, our councillor seeking re-election at the time, promised some funds. That was before Sam announced his candidacy. In spite of the many people on Tulip Street with Sam Austin signs on their lawns, Gloria graciously followed through after she handily won the election. Edmonds and HRM's horticulture section also gave us some of last year's bulbs that were otherwise heading for the compost heap. Killam Properties donated a few bucks and Weed Man loaned us a truck to bring in soil.
To access the HRM funds, we had to form a non-profit society, the Tulip Street Beautification Society. This bureaucratic nuisance actually turned out to be a real blessing, because the organizing efforts spread from Sam and his wife Michelle to families on both sides of Maple.
HRM's Traffic and Right of Way Services wasn't keen on tulips being planted in the verge. Our tulips would be "damaged by people getting in and out of cars parked roadside, municipal snow clearing operations (both snowplowing and salting) and other activities (ie. during garbage collection, home heating oil deliveries, etc)," we were warned. We were able to eventually extract grudging acceptance along the lines of "go ahead, but we won't replace anything if we have to dig up the street." Fair enough.
We did obtain official sanction to close a couple of blocks to through traffic for planting day after collecting signatures from all the homeowners.
On planting day, November 4, the community came together. Everyone who could bend down planted bulbs in front of the houses of anyone who said they wanted them. It was neighbours helping neighbours. Folks from the other flower streets and the tree streets came by to help. The sexton from Christ Church on Ochterloney, a man who possesses every conceivable tool, lent us a tulip-planting auger---an essential gardening tool for mass plantings. The auger was rapidly out-classed when the mini-backhoe showed up. Gardeners with green thumbs made beds to plant annuals and perennials around the bulbs. Those of us with thumbs of a different colour stuck with the auger and planted through the grass.
Some residents didn't want tulips ---too much trouble. We couldn't track down the landlords of some of the rental properties or superintendents of the affordable housing so we did a bit of guerilla gardening where we could. A couple of bulbs found their way into the Dartmouth commons. Leftover bulbs were planted in planters and stored in the cold for people who regretted their decision not to plant last fall. Over 10,000 bulbs were planted. Hours of planting and hard work were followed by a potluck barbecue.
---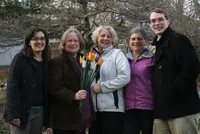 Tulip Street Beautification Society (L-R) Ruth-Ellen Kroll Jackson, Nancy Blair, Maureen McInerney, Cathy Tutton and Sam Austin all live on Tulip Street. For pictures of the project, see tulipstreet.ca and the TulipStreetDartmouth Facebook page.
Send your essay ideas for consideration to voice@thecoast.ca