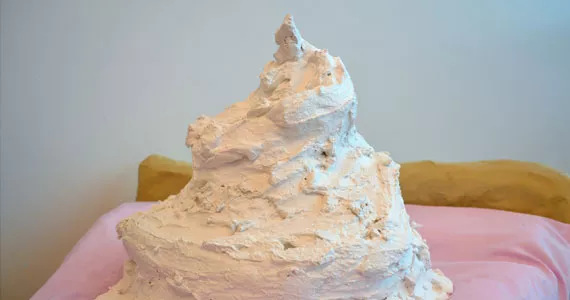 Hodgepodge Opening reception Monday, October 31, 5:30-7:30pm To November 5 Anna Leonowens Gallery, 1891 Granville Street
A feast of colour and fabric, Emily Lawrence's exhibition Hodgepodge is what would happen "if Willy Wonka and Pee-Wee Herman had a baby," the artist says. The sculptural installation fills a room of the Anna Leonowens gallery to the brim with soft sculpture, papier-mâché and found objects–"lots of grotesque objects, kitschy food, grotesque food," Lawrence says of her NSCAD graduating exhibition.
Lawrence began at NSCAD with an interest in ceramics: "It's sort of like baking in a lot of ways." But she became fascinated with soft sculpture and papier-mâché and hooked on what she calls "the sculptor's high: figuring out a clever way to do things." The soft sculptures made from found fabrics and papier-mâché pieces recall a fuzzier Claes Oldenburg, with a menu including hot dogs, ice cream scoops, pies, cakes and juice boxes.
"I draw a lot of my inspiration from retro foods and those sort of gorgeous, gluttonous spreads that you would see in magazine ads or cookbooks," Lawrence says, "having those sort of be very grotesque and full of goo and slime and cream, that sort of artificial quality that's always present in retro food."