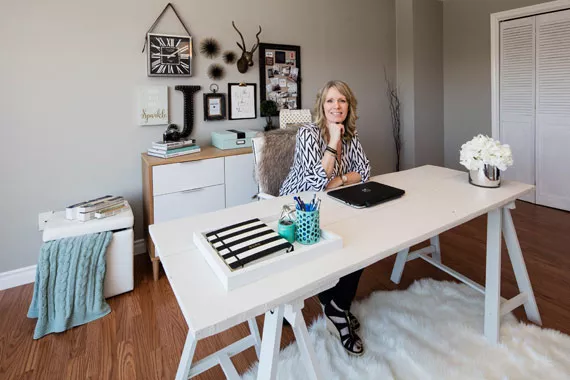 What makes this room your favourite?
When I'm at home I spend a lot of time in my office–it's the nature of owning your own business. We're lucky enough to have two master bedrooms in our home so I converted this one into my home office. This is the one room in the house that I can decorate anyway I want, and as girlie as I want.
The inspiration: I do most of my creative thought process in my office so I wanted a space that was chic but still functional. I kept the palette neutral, accenting with black, white, gold and a touch of seafoam green. I added different textures and elements such as wood, fur, a leather ottoman, throw blanket and metals to create layers and interest in the room.
Favourite detail: I'd have to say my desk. It's an old door that I purchased at an antique decor shop, and added IKEA sawhorse legs to. I have a passion for repurposing old furniture and things that are no longer "loved" by their owners, so incorporating an old discarded door for my desk was a must. I also love the 10 foot wide window that overlooks the lake and allows natural light to flood the room.
See Joanna's work at stagedforupsell.com