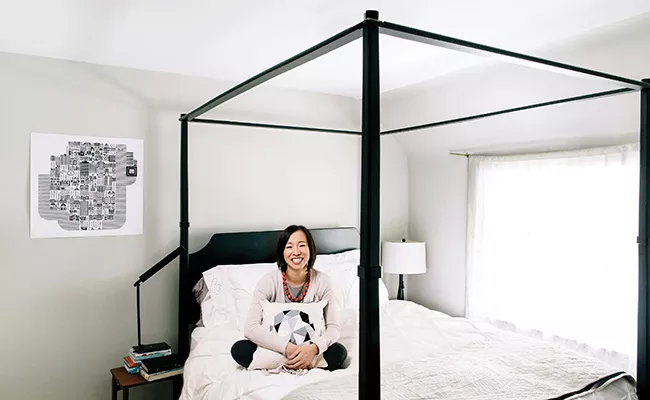 What makes this room your favourite?
The kids are rarely in the bedroom so it's a sanctuary for me. The room holds my favourite furniture pieces: A four-post bed, mid-century modern nesting tables, a mid-century credenza dresser and a mirror I bought at a yard sale. All the pieces are black, white or natural woods so they're all neutral colours. I like to design my quilts with colour but when I decorate I use as many neutrals as possible because I find them calming. I find they make the space feel uncluttered.

The inspiration

I have an architectural background. Architects generally draw with black and white—the cleanliness of that kind of communication translates into a space for me. A lot of my inspiration comes from the clean lines I use in my drawing.
Key details
The tall posts on our bed used to be attached to the head- and footboards. We couldn't fit the bed up the stairs of our old house so we had them cut by a carpenter to screw back into place. Now there's a piece in the middle where they connect that's stained to match the other pieces in our room. It ties the modern black canopy bed in with the mid-century pieces—it was a solution to a problem that actually makes the whole space work.