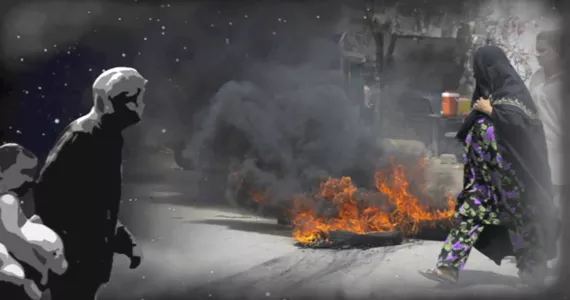 The dream for artists in any field is to get paid for following their passion. Some burgeoning Halifax filmmakers---combining their love of music with their love of film---are on the way to experiencing the sweet joys of getting a paycheque for something they'd do for the joy of it anyway.
Filmmaker Gavin Maclean's music videos have all been made free of charge for his band, Glory Glory. Maclean's first three videos, a trilogy dealing with themes such as humanity's destruction of their environment, slavery and the mix of good and evil in everything, are all stop-motion productions. His fourth, out in March, combines his original style with live action.
Maclean hopes to branch out. "My deal is basically that I want to make videos for bands who can't afford really expensive videos," he says. "And because I'm learning it's an opportunity for me to work with artists, build my skills and hopefully make cool-looking videos for them at the same time."
Maclean teaches at a music school to pay the bills, but the word is getting out about his work.
Alex Cameron and Mike Hall are two filmmakers for whom "getting the word out" is the name of the game. Their site, bywordofmouthmusic.com, is "all about promoting musicians and getting them heard by people who wouldn't necessarily hear them in the first place," says Hall. "We don't charge bands to do it."
ByWordofMouthMusic currently shoots one-shot videos in collaboration with sound-mixers OmniArt Studios. The site is a hobby for Cameron and Hall, who are also members of the band Men About Town. "We just like to help people out," says Hall. They've made some money from spinoff stuff, such as new clients for Hall's job as a professional photographer or musicians wanting recording time with their friends at OmniArt Studios. However, their generosity sometimes incurs pretty big costs, such as travelling to Yarmouth to shoot videos during Nova Scotia Music Week. But it's paying off: bands have begun asking the duo to film actual music videos and if they do pursue those opportunities, they hope to get paid.
Jessica Murwin's original focus is in animation, short film and documentaries. She's only recently started directing music videos and making money for it. Her video for Hind Legs premiered Valentine's Day at Gus' Pub to kick off the group's upcoming tour. The first video she was paid for, John Hughes' "Set Free," made it on Neil Young's web list of top 100 protest videos in the fall.
Music has always been a major part of Murwin's life. She grew up in a household that always had some song playing, so she jumped at the chance to mix her love of film with her love of music. "One of the really interesting gifts in starting to work in music videos is starting to think about how the images or colours are there to react to the music in a way," says Murwin. She likens it to synesthesia: "It's almost this idea of being able to hear colours." Murwin hopes to explore the idea more in future projects through incorporating animation. "Work a little bit to combine all these elements together," says Murwin, "kind of like...a tasty film stew."
For Murwin, music videos are the happy medium between corporate productions and fine art film. "You can be creative and you can kind of explore things with other artists but at the same time you earn a paycheque at the end and you can use that paycheque to continue to live," she says, "which is really important if you want to keep making art!"
Correction: Thursday, February 16
We misspelled
Jessica Murwin
's name in the print edition of this story and in the earlier version of it online. It is has been corrected, and we apologize for the error.
Video Links
Jessica Murwin's video, Set Free
Jessica Murwin's latest video, for Hind Legs
Gavin Maclean's site
Alex Cameron and Mike Hall's site ByWordOfMouthMusic