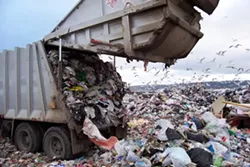 Halifax's waste system was once regarded as cutting edge, but now seems to be lagging in terms of increasing the amount diverted from the landfill. As the city is developing a new solid waste strategy, and is considering at least the possibility of sending waste outside HRM, The Coast will take an occasional look at different aspects of our waste system. This week, we look at composting.
Last year, about 46,000 tonnes of yard waste and kitchen debris were left in green bins and delivered to the city's two compost facilities—one run by Miller Waste in Burnside, the second by New Era in Goodwood. The companies have different methods of treating that organic material, but both methods take about three years, and all of the finished product is delivered to Elmsdale Landscaping, which uses it on its sod fields. Essentially, our kitchen waste becomes the grass squares that contractors use when putting new lawns in.
But there are problems with that system. First, according to figures provided by the city, about 2,099 tones, almost five percent, of the material left in green bins is un-compostable. That material is sorted out at the front end of the composting material and sent directly to the Otter Lake landfill. Second, even with the composting process, another 1,300 tonnes, or almost three percent, comes out the back end as unusable "residue." That residue is sent to the Kaizer Meadow landfill in Chester.
Even then, much of the finished compost does not meet provincial standards for compost that were developed in 2010, says Bruce Forest, director of solid waste at Kaize Meadow. The finished compost can still be used by Elmsdale, but isn't of the quality to be sold for resident use on city gardens.
Forest fears that the new provincial standards will get even more onerous in coming years, and that the cost of meeting those standards will be borne by Halifax taxpayers, diverting funds that could otherwise be spent on improving other aspects of the waste system. See more on this issue at thecoast.ca/bites.