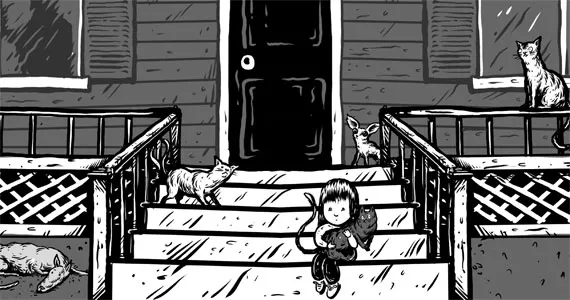 I used to stand in front of my dad while he was weeding the lawn so that I could block his butt crack from showing. He wore purple mini-shorts those summers, and his butt would pour over the top when he'd squat down low to pull dandelions out by their roots from the grass. I was too shy to tell him myself, but too embarrassed to let the exhibit hang bare. Our neighbours only needed to associate one pair of cheeks with the face of their pharmacist. Ms. Jones' cats used to nuzzle up against my dad when he was squatted down like this, as if they were jealous of the attention the lawn was getting. They'd loop their willowy tails around his ankles, stretch their heads up to graze his neck. Dad would gently push them aside, or pivot on his heels in the opposite direction, but his disregard only made the cats magnetic to him.
Ms. Jones, an elderly woman who lived next door in the white house with yellow shutters, fostered people's unwanted pets and strays. Most of the animals were cats who were born around the racetrack a couple blocks away from our subdivision, or dogs that had been abused or abandoned by their owners. Some lived in large custom cages in a brick shed Dad helped install in her backyard. Others she kept as pets and let roam in and around the house. I'd say she generally had at least five or six pets on the go. It was hard to keep track of their names, she called me and each of them sugar. Four odd cats, an old racing hound named Boss and a boisterous chihuahua that I called Earring, because of the way he would hang off other dogs.
One Sunday morning as I was covering for Dad, I turned my eyes from the street onto his weed pile. "Dad," I said, "you can't throw this away." I reached for a purple pansy from the top of his pile, clumsily fanning out the rest of it. A small body lay on top of the plucked weeds, belly up with its limbs stiff in front. My wrist jerked and I dropped the pansy onto my dad's bare foot. The creature was dun brown and about the size of my fist. Where I assumed to find a head there was an ugly pink knot. "What happened to its head?" Dad turned to look at the animal.
"You're lookin' at it, Jen," he said, pointing his finger at what appeared to be two little hands stretched out to cover its face. "There's its nose." I stared down once more.
"Where did it come from?" I said.
"The cat." He bunched the foliage back together, tucking in the pansy and reburying the dead mole in the pile and said, "Can you take this to the composter?"
I buried the mole instead, elbow-deep in the soft mud between our property and Ms. Jones', putting the pansy down to mark its place.
The cats hated me because I smothered them with ardour, and it was easy for them to escape me. Ms. Jones used to watch me on weekdays after school until Dad got home from work. For years teachers got me to craft cards for her on Mother's Day because my mom was dead. But what teachers described as mother, just sounded like my dad, not Ms. Jones. He was there morning and night, pestered me to floss and embarrassed me at times by holding my hand in the grocery store parking lot. Ms. Jones was just floating me along like one of her rescue animals. She'd store the cards I made in an armoire that she had in her dining room, along with collectible sheets of stamps she got around Christmas. Once a year, on Mother's Day, Ms. Jones would take out all the cards and hang them on string above her entryway. Ms. Jones was my watcher, triple the age of anyone else's babysitter.
She'd give me dry brownies that she made from scratch, slightly greasy along the edges with chunks of white flour. I'd dip the brownies into orange pekoe tea multiple times, placing the brownie on the table in between dunks. I'd chase the cats up and down the stairs, using my hands as extra feet. Strands of their fur transferred from the steps onto my clammy palms before I picked the brownie back up again. By the end of the treat, the last splash of tea was left undrinkable, steeping in wet crumbs and cat hair. One time Ms. Jones let me try a Milkbone. I nearly gagged it was so dry.
Dad let me stay at home by myself when I turned 10, but Ms. Jones gave me a key so I could visit her and the cats whenever I wanted. The only time I ever took advantage of this was the day I let Barney out, the same day I buried that star-nosed mole. Dad got called into work that afternoon and I wanted company. I couldn't think of anyone with more company than Ms. Jones.
I think she only kept the cats she gave up on finding homes for. Barney was one of those stray racetrack kittens. When she first took him in, he was so small that she had to feed him goat's milk through an oral syringe. "What is it?" I had said to her when feeding. Ms. Jones held him in a fleece blanket on her lap. "Sugar, this is Barney," she said to me. Barney looked so ill that Ms. Jones didn't think he'd survive. But he was just a really homely cat. He had fluffy black and white fur, and the white tufts stuck out longer than the black. His whiskers were all lopsided, and his eyebrows jut out on a downward slope that made him look angry all the time. The day I let Barney out he was being particularly affectionate. I lifted him up into my arms and brushed my face against his. He bonked his face right back into mine. I combed under his neck with my fingers and hair was missing. I didn't think much of it, figured Ms. Jones must have snipped out the matted dreads. When I set him back on the ground, I noticed a few more bald patches down by his front paws.
A couple days later, Dad said to me, "Jen, will you stop picking your arm at the dinner table?"
"What?" I said, moving my hand away from a ring of dry skin on my arm, a puffy red ridge around the perimeter. "It's itchy." I dug my fork back into the bowl of chicken and rice sitting in front of me.
"Is that ringworm?" he asked. "Were you playing with those mangy cats again?"
"Worm?" I said, letting my tongue hang out with bits of chewed up food on it.
"Jen, put it back in your mouth. I'll have to call Edith..."
"Ms. Jones?" I said.
"...and bring clotrimazole home tomorrow."
"What's clotrizole?"
"Anti-fungal cream." Dad leaned across the table to check out my arm. He squinted. "What you have there doesn't look so bad. Do you have any more spots?"
"Fungal!" A dollop of beige mush dropped from my mouth and onto the table.
"Gross, Jen." Dad pushed up from his chair, leaving his fork and bowl streaked with teriyaki sauce.
As I was scraping sugary burnt rice from the bottom of the wok, I heard Dad in the next room, leaving a message for Ms. Jones on the phone.
"Hi Edith...Rodney calling...found a spot on Jen's arm tonight...think your cats have... worm...I can...extra tube...cream...tomorrow...in the mailbox...be fine...cats...just thought I'd check...right...bye." Dad came back into the kitchen and grabbed a dry plaid cloth from the oven door handle, and draped it over my shoulder. He said, "OK, switch. I wash, you dry."
When Dad brought me home the medication, I opened it immediately. I loved seeing my name in print, wrapped around the prescription container. The cream was clean white with a slightly bleached odour in a 50ml cylinder with a pop-up top that snapped off by the repeated force of my thumb. For the next few days, I smoothed cream over that patch religiously, morning, noon and night. I remember that mark like I was born with it, smaller than a dime on my inner forearm about an inch away from my elbow pit. I watched the single ring slowly fade from my skin.
"My arm's clean!" I phoned Dad at work.
"We should celebrate," he said. I could hear a technician in the background, doctors on lines two and three. "Gotta go, Jen."
"Bye Dad, love you."
"You too, schweetie." Click.
After work Dad slouched into the couch and turned on the news. The anchor sounded firm but excited. Dad's eyes drooped. He loosened his tie and put his trouser socks on the floor. His feet up on the leather ottoman made the room smell like vinegar. Varicose veins splintered his ankles.
"I made supper." My words stirred him into an alert position. "Noodle soup."
"There's a chicken in the car!" He hopped up again, and raced out to the car with bare feet. When he came back in, he was holding a rotisserie bird in one hand and a white party cake in the other. Gravel from the path fell from his toes. "That mangy cat's out there again."
"Barney?" I said.
"Let's visit Ms. Jones after work," he said.
"After we eat?" I said.
For supper we had boxed chicken noodle soup with more chicken on the side. We put our shoes on to head over to Ms. Jones' and left the cake uncovered on the counter, its rainbow sprinkled face turned upward patiently. It read "Congratulations" and a long plastic knife sat beside the plastic tray.
I tried her door knocker first. It was a brass lion head, holding a ring in its mouth. There was a name plate bordered by the mane's tresses, Jones, engraved in medieval script. Glossy fliers poked out from the top of her cast iron letterbox. Dad lifted the top and pulled out the papers along with a small tube of Canesten cream.
"It's fine, we should go in," he said. I lowered my hand to the gold painted knob. He nodded to me. I turned it open.
"Hello?" I raised my voice.
The carpeted stairways of the split entry were the hairiest I had ever seen them. Ms. Jones used to coat her carpets with wall paint so that less fur would cling to them, giving them a sponge effect accustomed to walls. Powder blue stroked across darker blue fibres, but the flooring just looked grey underneath a net of animal hair. Barney ran in through our feet, sprinting ahead of us up the stairs, his ankles balder than before. I pinched my nose and waved my free hand in front of Dad's face. He batted down the gesture but brought his own fingers up to shield his nostrils as he motioned up the stairs. The air inside seethed with cat piss, the smell of rancid eggs and sour milk.
We moved into the kitchen, where empty glass food dishes lined the back wall. There was an open carton of cream tipped over on the counter next to a ceramic tea pot. A congealed yellow moat surrounded them both. A bag of dog food was torn open and left a trail of meat kibble spread across into the dining room.
"Edith?" Dad said. He placed the fliers and tube of cream on the counter. A delicate whimper came from the next room. Kibbles popped underneath our shoes as we stepped into the dining room. The lighting was dim from the low summer sun and heavy curtains drawn closed. A cat tail swung like a pendulum from between the curtains, gently pulsing the light pouring in. The greyhound, Boss, lay across the open door sill connecting the dining room to the living room. He looked at us with ears bent back into his freckled head, eyes black and round as beetle shells. He parted his lips a little wider, whimpered again. Dad walked ahead.
"Jen," he said in a deep tone. He turned to me, began lifting his arms to block me from entering the room. His lips opened as if he were going to speak, tell me to look away. He took his arms back, and vomit took place of his words.
Ms. Jones sat upright in her burgundy recliner, flies at her lap, and arms limp back behind the rests. An open pot of sugar sat on the table to her right. Teaspoon and mug tipped over the floor beside her. A brown puddle leaked out from the mouth of the mug, dried into the carpet. Earring the chihuahua sat quietly in front of her between the coral yarn slippers still clinging to her feet. The dog shivered at eye contact, tiny tail caught between its legs. Barney chirruped. He hopped up onto the arm rest. His head small like a sock puppet swooped in to rub against Ms. Jones, her body stiff to reaction. Earring rumbled. The cat leapt onto the back of the chair, his patchy tail twisting into her white curls. I looked to Ms. Jones, her mouth open and smeared with fluid from her lungs, wishing there were two sets of pink fingers there to mask her face. a
---
CASSIE GUINAN writes short stories and poems. She studied creative writing and classics at Dalhousie University. Guinan is an editor and director for The Impressment Gang. For more visit theimpressmentgang.ca.