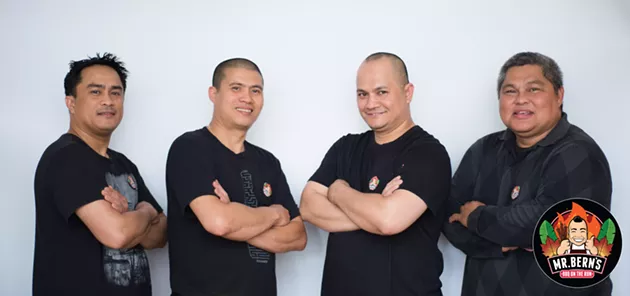 "Filipinos are known for feasts," says
Mary Panaligan
on a break from the lunch rush at
Mr. Bern's BBQ on the Run
. "If there's a birthday party, it's a feast. We wanted to offer not just street foods, but a feast. You'll feel like you've been to a party."
It's been just under two weeks since the Filipino food truck made its debut, and it's since been serving up barbecue pork skewers, spring rolls, adobo burgers, chow mein and more from its little lot (complete with picnic tables) on the corner of Barrington and Kent Streets, across from the Superstore.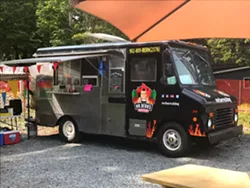 "This is actually run by friends. Filipinos love to spend time together and eat and cook," says Panaligan. Mr. Bern, by the way, is an acronym for those co-owners—
Bernard Palparan
,
Rolly Panaligan
(her husband),
Neil Tantiado
and
Sonny Tubo
, who after being told to open a restaurant many times, went for it. It's a project nearly two years in the making.
"We were immigrants, and it's hard to put up a business when you're new to the province. We were starting to save, and we decided to push through," she adds. And so far, she adds, "it's exceeded our expectations."
For now, Mr. Bern's is open noon to 10pm at its Barrington lot, but hopes to be on the move this fall. "We wanted to be able to cater to a lot of people instead of stay in one place," says Panaligan. "It's nice be able to share authentic food with people."