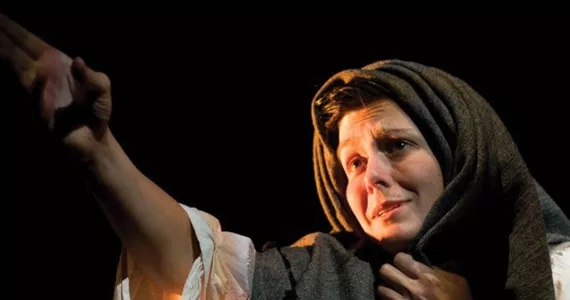 SCENE: A condo in Toronto, Ontario. (Enter HANNAH MOSCOVITCH, a 33-year-old playwright whose ascent in Canadian theatre over the last six years has been meteoric. Recently, she's written for CBC Radio One's Afghanada, worked on nearly a dozen plays on the go, opened a play and had a script commissioned by the Stratford Shakespeare Festival. She's on the phone with ADRIAN LEE, a stock journalist character.)
MOSCOVITCH I graduated from the National Theatre School of Canada in 2001, I waitressed for five years, I went back to school. I spent a lot of time Googling Harvard Law. I was putting up plays, trying to get people to take me seriously. It kinda happened.
(Spotlight on a younger MOSCOVITCH learning Toronto's Summerworks festival is putting up her play, Essay, in 2005. MOSCOVITCH starts working on the script for 2006's The Russian Play. Spotlight down.)
MOSCOVITCHI had this tiny little play on in this tiny little back space, the actors were being paid in alcohol and they were warming up in the parking lot in the rain, when Mary Vingoe wrote to me---her email is literally burned in my brain---it said, "Dear Hannah, Congratulations on The Russian Play. Does the play have touring potential?" And we said, "Yeah, totally!" We had no idea what we were doing.
LEE Next thing you know, you're one of the bigger names in Canadian theatre.
MOSCOVITCH I got offered 11 commissions. And I took them all, like a fucking idiot. When you've been starving, it's hard not to gorge yourself.
LEE All that work has really fed the hype. What do the accolades mean?
MOSCOVITCH Probably less to do with me, and more to do with the fact there's so few playwrights in Canada. You can't make money without killing yourself doing it. There aren't many playwrights left in Canada who aren't doing television. It pays amazing.
LEE Why aren't you doing television?
MOSCOVITCH It's been a weird year for me making that decision. When my friends, who've all gone to work on television, talk about getting a Lexus signed into their contract, I get a little uncertain about my life choices. (Laughing.)
LEE Two of your commissions are coming to Halifax---a nationally touring double bill of The Russian Play and Mexico City, by Halifax's 2b theatre company. Tell me about their production.
MOSCOVITCH I saw it in 2008 and I love it. Colombe Demers is someone I've admired since I was young. I think she's the bomb. It's the production up right now that I most admire.
LEE At what point then do you go from being a rising theatre star to just a theatre star?
MOSCOVITCH It'll probably happen overnight. It'll be like, "veteran playwright" and I'll be like, "Oh" because up to now I've been emerging and rising and young. Or I'll go ride that Lexus out of playwriting land.
CURTAIN
---
The Russian Play and Mexico City, Tuesday, November 29 to Friday, December 4, Neptune Studio Theatre, 1591 Argyle Street, $15-$25