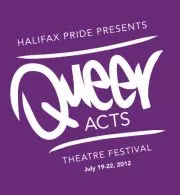 Well, judging by the number of people in attendance at the Bus Stop Theatre on Saturday afternoon, it seems that Queer Acts is giving Tall Ships a run for their money.
I took in the two shows that I hadn't previously seen: A sampling of work from DaPoPo's Acting Out! Queer Youth Theatre Workshop and Fluffer Theatre's staged reading of Love Me Always.
The Acting Out! pieces introduced Halifax to a fresh and formidable new voice on the Halifax theatre seen. Aisha Sommer Zaman is a young playwright/actor with something to say. The first piece starred Sommer in a monologue about how the magazine industry contributes to negative body image in teen girls. Sommer has poise, presence and personal magnetism that will take her far as an actress. The second piece was performed by local professional actors Keelin Jack (who also stars in the fabulous Touch) and Rhys Bevan-John. The work, presented as a staged reading of a work-in-progress, explored the persecution of gays in Iran. The writing is powerful and beautiful and I look forward to seeing it fully-formed on stage.
The second show starred Hugo Dann as the brilliant and urbane Oscar Wilde. The piece knits together portions of Wilde's actual writings to bring to life the story of the author's love affair with a selfish young Lord and his subsequent incarceration for gross indecency. Dann is outstanding as both the tortured Wilde struggling to remain sane in intolerable circumstances in prison and the romantic, condescending Wilde musing on love and passion. The text is dense, but Wilde's words shine, even more than a century later.
For more information on show times and costs, go to: http://www.halifaxpride.com/index.php/pride-week/queer-acts