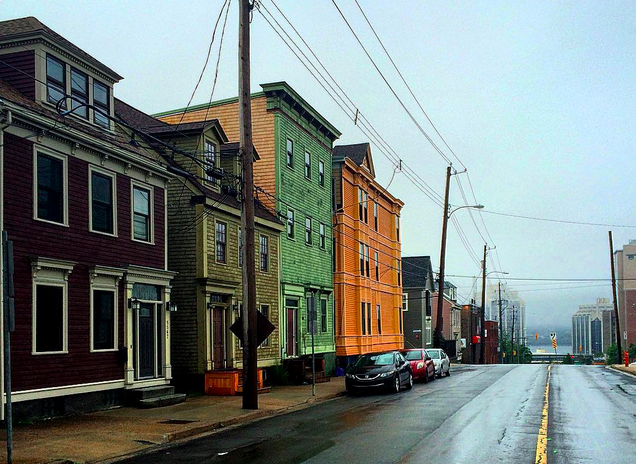 1
Don't rain on our parade, weather. The weekend's damp conditions cancelled Halifax Pride's show-stopping Dykes vs. Divas softball game. It also caused the cancellation of the first ever heritage Gathering on Gottingen Street—a sponsor-free event designed to connect Pride a bit more with the community and its roots. Both events have been cancelled outright for the year. There was some hope the softball game might be rescheduled, but festival organizer Heather Green tells Metro's Zane Woodford there's no room in the schedule. "All the Divas, especially, have events every day, so it's hard to find a time that everybody could do it again." The rain will continue until morale improves.
2
The big news Sunday night (aside from that waterslide being cancelled) was the arrest of crime figure Jimmy Melvin Jr. for the 2009 killing of Terry Marriott Jr. Melvin was arrested in Bedford on Saturday night, after several years of investigation by police who seem to have decided he was responsible but couldn't make any charges. Marriott Jr. was shot in a home in Harrietsfield on February 20, 2009. There's been feud between the two crime families for several years now. Both Macleans and the Herald have some background on Jimmy Melvin Jr.'s legal history and bizarre infamy. Melvin is at court today, to face the charge of first-degree murder.
3
Some diligent 311 agent did an AMAA on the city's new garbage collection rules over the weekend. In case you weren't aware, HRM will be changing its policies August 1, mandating the use of clear garbage bags. Again, you can still have one regular-sized dark garbage bag and one "nested" small bag inside your clear bags. More information here.
4
Remember The Healer? That movie being shot in town that transferred part of Granville into a Wee Britain? It's the last film being shot under Nova Scotia's previous tax credit system. Producer Enrique Posner tells The Canadian press his $6.5-million film will have spent around $4 million in the province and recouped just under $1 million with the current rules. The new tax credit system introduced by the Liberal party would see a rebate about 20 percent less than what he's currently getting. That in mind, he seems convinced the new framework will prove successful. "That would not have been an amount of money that would have dissuaded us from coming here," Posner said. If anything, he claims the loud outrage over the changes when they were announced created an uncertainty in the industry which may scare off future films.
5
Starting today, Argyle Street gets innovative. The Argyle Streetscaping pilot project is transforming the road between Sackville and Blowers Streets into an alternative, pedestrian-oriented design for community events and "activation." It's an opportunity for the city to test out what could be a permanent Argyle Street redesign once the Nova Centre's finished in 2017. Very low-speed motor vehicle traffic will still be permitted during most times (with delivery times limited to before 11am). The portion between Sackville and Blowers will close completely to traffic each Thursday night, and all day Friday through Sunday. The pilot project runs from today, July 20 into early September.
6
The Coast's owners, editor-publisher duo Kyle Shaw and Christine Oreskovich, went to Salt Lake City for the Association of Alternative Newsmedia's annual convention, and brought us back the best souvenir possible—an AAN award! Team Coast's Stephanie Johns, Elliott Magill, Veronica Simmonds, Meghan Tansey Whitton and Melissa Dube won first place in the multimedia category. The winning project was last winter's mega-feature Fort Mac to Halifax—living with Canada's worst commute, which featured an all-too-real story of a couple making it work despite living in two separate cities and a collection of immersive audio postcards. The print version also confused the heck out of some folks when we changed the name of the paper to The Sands and filled it with cover-to-cover Fort Mac content.
7
We're dusting off Back to Black and questioning all of the relationships in our lives this week because Amy hit theatres this weekend. Tara Thorne dug into the devastating doc on the life and talent of Amy Winehouse, saying it's "a tough watch, but you must."
8
In honour of the past two unsummery days, we suggest cranking this seasonally-inspired (and local-centric) summer playlist today. If you listen hard enough, you might even feel a little sun on your cheeks.
+1 Sure Thing
Hissy Fit heats up Pride tonight. The gay older brother of $Rockin 4 Dollar$ takes the same format as the year-round show–12 bands play 15-minute sets for a chance to win cash–but on this one magical night, all 12 bands are dressed in drag. The Mankos host this year, with $600 up for grabs.