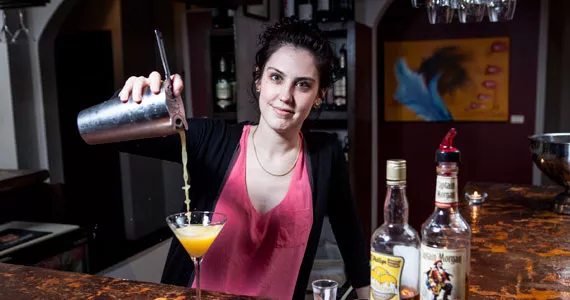 Autumn: A season of changing leaves, crisp breezes and fuzzy sweaters. It's also harvest time, which means a cornucopia of flavours has arrived in time to create some tantalizing seasonal cocktails. You can't just drink pumpkin spice lattes and apple cider all month, so why not try one of these unique recipes from some of Halifax's preeminent watering holes? After all, if the days are getting shorter that just means there's more time for drinking.
MODA highlights the brisk autumn season, when everyone seems to be clutching a pumpkin spiced something or other, with this charmingly simple spiced pineapple martini.
Spiced Pineapple Martini
1 oz spiced rum
1 oz butterscotch liqueur
3 oz pineapple juice
Shake all ingredients over ice, serve in martini glass.
---
Lisa Pettipas from The Carleton provides a rich showcase of buttery, apple-y flavours in this hot apple cider that will be sure to keep you warm on a cold autumn night.
Hot Caramel Apple Cider
For spiced butter:
8 tbsp unsalted butter
1/4 cup dark brown sugar
1.5 tsp ground cinnamon
1 tsp ground nutmeg
0.25 tsp ground cloves
1/8 tsp salt

For the drink:
all-natural apple cider
spiced butter
cinnamon stick
Sailor Jerry spiced rum
Combine butter, brown sugar, cinnamon, nutmeg, cloves and salt in a small bowl. Bring apple cider to a simmer on the stove, add the spiced butter and stir continuously until melted. Serve in a mug with one ounce of rum per person, or in a punch bowl on top of dried ice for a spooky treat.
---
Alexa Atkins of Fid Resto takes the classic, refreshing bellini cocktail and shifts focus from summer fruits to fall harvest with this playful, fizzy drink.
Cidpellini
2-3 tbsp homemade, mulled apple cider poached puree
sparkling wine of your choice

Top the apple cider puree with the bubbly of your choice, then garnish with a baby whisk (to keep things mixed) and a dehydrated pear slice.
---
The Drawing Room knows a thing or two about atmosphere, so take seriously its suggestion of this devilish drink, named after everyone's favourite Satanic pregnancy film.
Rosemary's Baby
1.5 oz vodka 
1/2 oz Acadian maple syrup
1/2 oz fresh squeezed lemon juice
1.5 oz unsweetened Nova Scotia blueberry juice 
1/2 oz sweetened blueberry juice
muddled rosemary
egg white (optional)
Measure vodka into a Boston glass and muddle rosemary sprig into it.
Strain out vodka into another Boston glass to remove rosemary sprig and add all other ingredients including egg white, shake without ice first. Add large piece of ice and shake vigourously. Strain and garnish with rosemary sprig. Blueberries are high in pectin, so the egg white emulsifies and creates a meringue, rather than just a foam as with sours.
---
Speaking of spooky, if you're looking for some punch for your Halloween party, The Bicycle Thief's Jeff Van Horne recommends this aromatic (and ghostly) brew.
Witches' Cauldron
3 sprigs rosemary
3 chopped pears
1 cup sugar
2 tbsp maple syrup
8-10 dashes bitters (Peychauds preferred, but Angostura works too)
3/4 cup apple juice
2 cups Hendricks gin
1/2 cup brandy
3-4 cups water
finely grated zest and juice of one lemon
Heat the rosemary and a pinch of salt in a large pot (or cauldron) over medium heat to release aroma. Add the chopped pears, lemon zest, maple syrup and bitters. Caramelize the pears, which will release their juice as they cook. Slowly add the sugar and increase heat to a boil. Add one cup of the gin, ignite (carefully!) to soften and enhance the flavours. Remove from heat, add the remaining gin, brandy, water and apple and lemon juices. Serve as punch with lemon zest as garnish.
---
The Wooden Monkey suggests you try out its Maple Manhattan, a deep and sweet concoction which replaces the standard rye and sweet vermouth with local specialties.
Maple Manhattan
1.25 oz Glen Breton Single Malt whiskey
3/4 oz Jost maple wine
2 dashes bitters
a touch of Nova Scotia maple syrup
Shake ingredients over ice and serve in a chilled martini or tumbler glass.