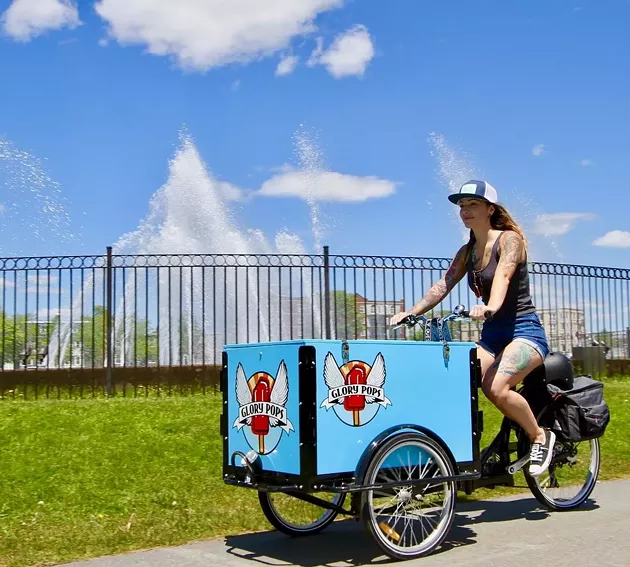 You're either old enough to remember chasing the sound of the Dickie Dee through your neighbourhood, or you're young enough that a bicycle selling frozen treats is totally novel. For
Jacqui Keseluk
, either option works. The pastry chef-turned-entrepreneur is ringing in her first summer on wheels, selling hand-crafted popsicles under her newly launched business (run with longtime friend
Brian Larter
)
Glory Pops
and sums up her early success simply: "People like fun things."
Keseluk bought the bike and popsicle-making gear earlier this spring, stoked on the idea of being her own boss and having a creative culinary outlet. "It's interactive and it's easy to eat," she says of the appeal of her handheld snacks. "You see food trends every year—right now it's all about doughnuts and tacos, before it was macarons, there was the burger craze, but no one in the city is really doing gourmet popsicles. They're very big in New York and LA and I hope I'm ahead of something." So far she's been experimenting with straight-ahead options like raspberry-mango, strawberry—"that's what the kids want"—as well as flavours like peanut butter banana and cucumber lime. "As long as I have a solid inventory of the basics, I get to play," she says.
Apart from selling her treats at
The Atomic Cafe
(6451 Quinpool Road),
Local Source
(2530 Agricola Street) and
Raven Espresso
(14 St. Michael's Avenue), Keseluk will be peddling (and pedalling) her pops all over central Halifax, around the Common and at special events. "I plan to be out on the bike any time it's sunny and hot out," she says.
Glory Pops won't melt away with the short-and-sweet summer—she's got plans to partner with Halifax bars in the name of boozy popsicles (think prosecco and mixed berries) as well as venturing into protein popsicles for the fitness-focused community. But for now, the best bet for finding Keseluk's bike is to find her on Instagram. "The '90s seem to be repeating themselves as far as fashion trends," she says, "so maybe it's going the same way with food."