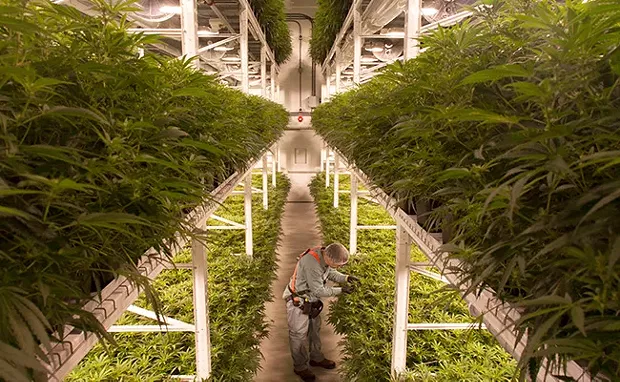 It's not the most contentious of HRM's new cannabis bylaws, but it still has its critics.
Halifax regional council voted unanimously in favour of land-use amendments for cannabis production facilities and dispensaries in HRM following a public hearing Tuesday.
The bylaw amendments are the third of a set of policy changes in anticipation of legalization coming October 17, including the controversial decision to
ban all smoking in HRM
outside of designated areas.
At the public hearing, rural residents voiced concerns about where the municipality chose to place cannabis production facilities. Some supported the changes, saying it was wise to separate large and small-scale grow-ops from residential areas—and from each other—to avoid public nuisance.
The new rules specifically permit large-scale grow-ops in industrial zones such as Burnside Industrial Park, with no cultivation or size limits.
Micro-facilities would also be allowed in industrial zones, as well as rural mixed-use zones, but are restricted to a maximum of 600 kilograms per year, or 200 square feet. All facilities must be at or beyond 70 metres from residential areas, schools, and parks.
Cow Bay farmer Jamie Tingley urged council to reconsider those conditions around micro-growing facilities. Despite having ample farmland, Tingley says the bylaws prevent him from being able to start a micro grow-op for medicinal purposes.
"This is not being addressed at all, so I'm very concerned that it's going to get totally overlooked," he said.
Because he lives in a rural-residential zone, Tingley says he can't get a permit for an organic micro-facility on his 40 acres of farmland.
"I can put a 5,000-square foot greenhouse on my property but according to this I'm not allowed to put 2,000 of that
as
marijuana, even if I'm totally licensed and secured."
Dartmouth-South Eastern Passage councillor Bill Karsten showed sympathy for Tingley, saying he should be able to apply for a site-specific exception.
"This very well tonight could be an error, in terms of having missed the opportunity to include
Mr.
Tingley and others like him, and I just feel bad there's nothing we can do tonight to accommodate him," he said.
Karsten voted in favour of the amendment but asked Tingley to speak to staff after the hearing.
The approved amendments signal a confirmation of council's position against cannabis as a public nuisance, and the NSLC's monopoly on cannabis retail sales.
So far, the province has been clear that dispensary storefronts will continue to be illegal. Following the province's lead, the municipal amendments ensure that if
non
-NSLC storefronts ever become legal, HRM can restrict them for however long it takes to develop an urban plan for where those operations are allowed to exist inside city limits.
At the public hearing, cannabis patient and activist Chris Backer expressed concern that the municipality was ignoring the rights of patients to reasonable access.
"They can't even see the rights violations that patients will suffer," Backer said after the hearing adjourned.
Christopher Enns, the owner of Farm Assists medical dispensaries, agreed and asked
council
to adjourn long enough that patients and advocates could submit their concerns about the "irreparable harms that will happen if their voice is not heard."
Farm Assists was raided three times between 2013 and 2015, but the charges
were dropped
the day Enns planned to file a constitutional challenge with the court.
Enns says the municipality's willingness to follow the province's lead is harmful to patients. Without storefronts, Enns says sick people won't have reasonable means to access safe, quality, affordable cannabis in a timely manner through mail-order.
"It's incumbent on the councillors to look at legislation that opens the doors to access these products in a manner that's safe and legal," he says.
Councillor Sam Austin said the municipality has no ability to allow dispensary storefronts, but Enns says
recent events in Vancouver
show exceptions can be made for places that exclusively serve medical patients.
Following the vote, Enns said he hopes enough dialogue will happen before October 17 that, "both the police, the Crown and the city will appreciate that any enhanced targeting of dispensaries will result in litigation that will not only be very expensive for the
city,
but take us back in terms of the permissiveness around cannabis that we're trying to move forward on."
As the hearing adjourned Enns announced, "If anyone wants to try cannabis for the first time on October 17, we've got your back!"