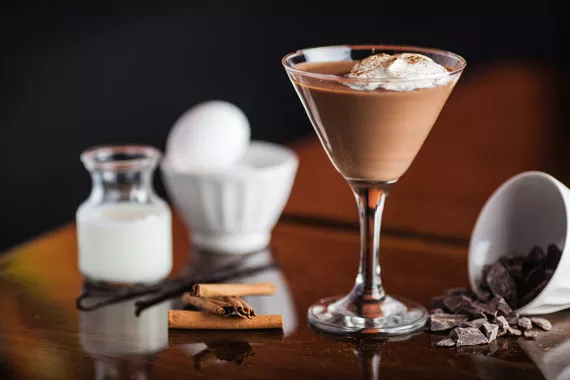 Ingredients 8 oz bittersweet chocolate, chopped 1 tbsp cocoa 1 tsp cinnamon ½ tsp nutmeg ½ tsp cayenne 3 cups milk 2 cups heavy cream
2 tsp vanilla
8 eggs, separated
1/3 cup sugar
XO Patron Cafe
Whipped meringue top or cookies (ratio of 2 g sugar to 1 g egg white) 290 g of whites 580 g sugar pinch of cream of tartar
Method In a bowl combine chocolate, cocoa, cinnamon, nutmeg and cayenne. In a small saucepan, simmer 2 cups of milk and pour over chocolate mix. Stir to melt the chocolate and combine. Add remaining 1 cup of milk and cream.
In a separate bowl whisk egg yolks and sugar until light in colour and slightly fluffy.
Put chocolate mix over a double boiler to slowly increase temperature of mix. Stir constantly. When the mix reaches 120°F slowly pour the mixture into the egg yolks constantly whisking. After completely combined pour back over double boiler and cook for addition 3 to 5 minutes, or until slightly thickened. Immediately remove from heat. Let cool.
When ready to serve: Fill a rocks glass with ice, pour over 1.5oz XO Patron Cafe and add your eggnog. Stir.
Garnish with lightly sweetened whipped cream, spice with cinnamon and nutmeg or if you are feeling extra fancy—use up those egg whites with the follow recipe.
Whipped meringue top or cookies Line a baking sheet and pour over sugar. Bake 5 minutes at 400°F. Whisk egg whites on low until foamy, then add pinch of tartar. Increase speed to high until stiff peaks. STOP.
Once the sugar is ready, turn mixer on low. Add one tablespoon of sugar at a time until fully incorporated. Turn up to high and mix for 5 to 7 more minutes. At this point you have a beautiful light topping for your eggnog or you can spoon large dollops on a sheet pan and bake at 200°F for 30 to 40 minutes and have meringue cookies. They are done when you can lift them off the parchment easily.
From our familia to yours! Salud!
---
El Chino 2398 Robie Street