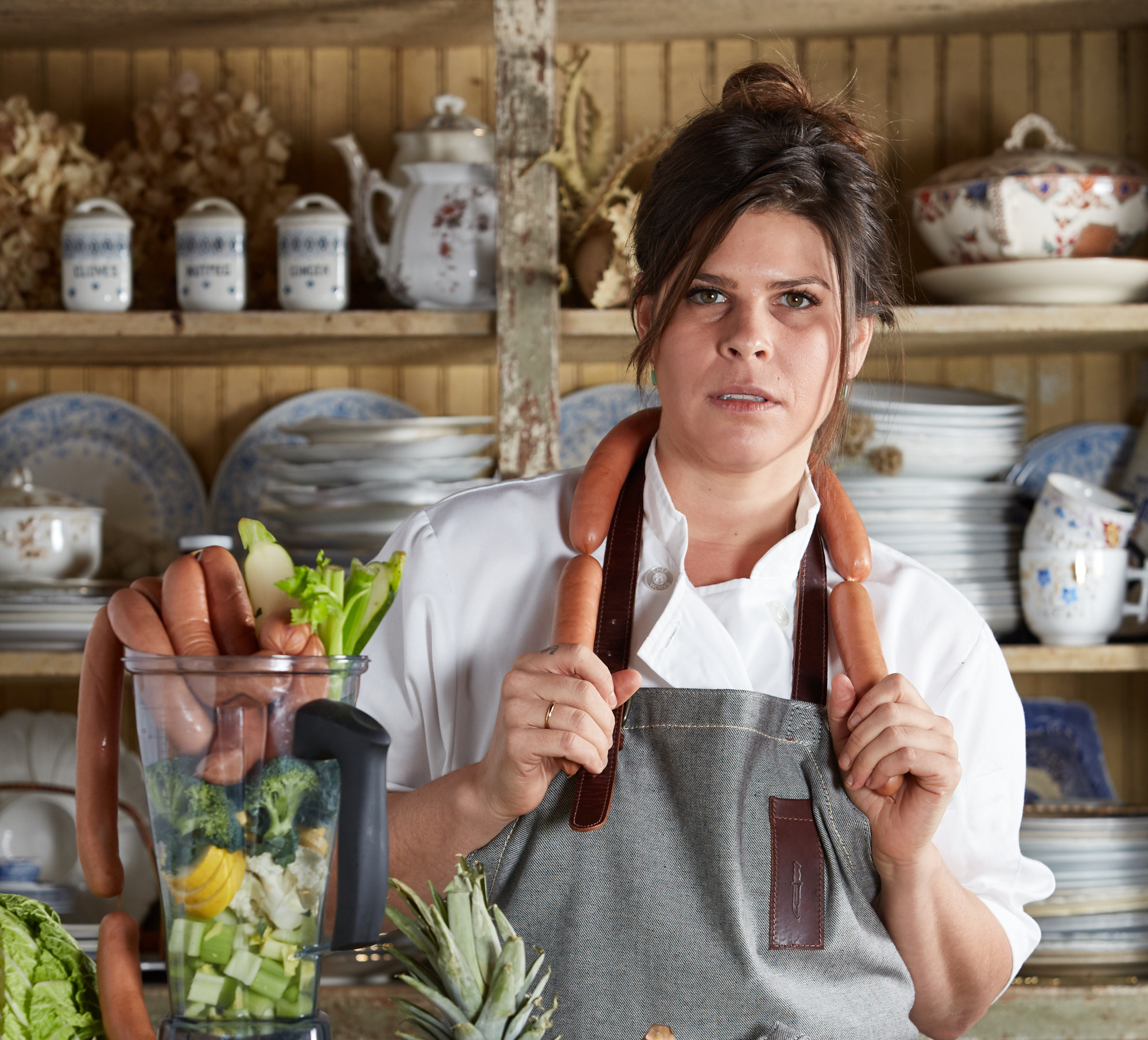 It's good to be Jacques La Merde. The tweezer-wielding sultan of soigné is a confident, creative social media celebrity and a damn good chef. His instantly popular Instagram account— @chefjacqueslamerde— earned well over 130,000 followers with elegantly plated, carefully considered combinations of gas station, vending machine and freezer food and all-caps confessions of rolling with the punches to bring the bros #plateswagger. And the artist behind La Merde was a mystery until early 2016, when the powers that be at Top Chef revealed he was none other than she—Christine Flynn, the executive chef behind Toronto's iQ Food Co. and a Nova Scotia native.

"People's perception of what chefs do in a day is incredibly misaligned with what you actually do, and for me, I was getting to a spot where I was frustrated with the limits on what I was doing," says Flynn of the root of the JLM narrative, which she calls an extension of herself. "But also, it was kind of just an arts and crafts project."
Motivated by the project's potential to be both a creative outlet and a way to gently challenge some of the things she was sees on social media, Flynn started shooting the epically presented junk food—from deconstructed Drumsticks to Goldfish gravel to Red Bull foam— in front of a window in her little apartment. Normally, she says, it took her five minutes to plate. No lights, no glycerine, just snacks and jokes. Tomorrow, she'll bring one of those signature chef La Merde dishes to life as part of her workshop, The Art of Playing, at Devour! festival in Wolfville.
"The whole point of the project was to make people think. You can create something and put it out there in the world and people come back to you and are like, 'This is obviously a statement on feminism,' or 'This is obviously a statement on the dependency of the culinary industry on illegal immigrants,' or 'This is a statement on men in the industry,' and sure, all of that is there—but there are different things available to different people," says Flynn. "And if you want to leave all that behind, at the end of the day it's also just a nice image to look at with a funny commentary."
Keeping the character relatable was also key, which is why La Merde remains well-intentioned, even kind; Flynn says she'd go out of her way to engage with followers, giving chefs shoutouts and encouraging other women in the industry. "My biggest rule was just be nice to everyone. When you're working in satire, people want you to be mean or to call out individuals or get specific," she says. "I was never willing to do that, although I think it would have made the account more popular. It was important to me that it was a safe place on the internet and it was one that was welcoming to everyone."
Flynn isn't posting weird La Merde magic as frequently these days, mostly when random inspiration strikes. She recognizes the need for novelty, and now that she's not anonymous —although plenty still think she's a dude— the schtick has to evolve. But she's learned a lot from her unapologetic alter ego.
"For me it was very helpful because I think I tend to underestimate myself, and like all women I definitely have some imposter syndrome that now I just sort of ignore," she says. "There are a few things that have definitely changed for me personally, but it was an interesting journey, one of the most fascinating things I've ever done"
"That was the great thing about Jacques, there are all these disasters, everything is going wrong and he'd always kind of come out on top," says Flynn. "What would JLM do? Every once and a while I have to go back to that. I run five restaurants now and there are some really hard days. And you kind of have to reset."
---
The Art of Playing w/Christine Flynn
Thu Nov 3, 2pm, $30
Troy Restaurant, 12 Elm Avenue, Wolfville
Devour! A Food Film Festival
Nov 2-6, Wolfville, devourfest.com