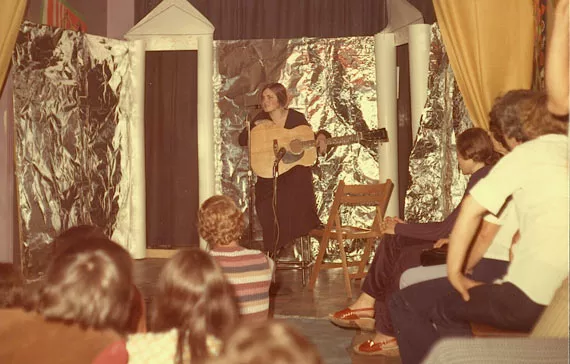 There was scarcely a gathering of gay and lesbian activists in 1970s Halifax that Anne Fulton wasn't involved in, or late for. An original member of the Gay Alliance for Equality, incorporated in 1973, Fulton was something of a founding mother of the city's gay and lesbian activist community.
"She was one of the people of that generation that helped to create the world we live in," says friend, co-conspirator and former GAE executive member Robin Metcalfe.
A self-employed counsellor, Fulton died suddenly of a heart attack November 2, 2015 at 64. Friends congregated in the Facebook group "Anne Fulton— a celebration of her life" and populated the GayHalifax wiki with accounts of her contributions to '70s and '80s gay and lesbian Halifax. But the words "gay," "lesbian" and "activist" didn't appear even once in Fulton's obituary.
After her death, friend and fellow pioneer Mary Ann Mancini received a call from a member of Fulton's family. "They really had no clue," she says about Fulton's contribution to lesbian and gay activism. Fulton had kept that separate and distinct from her family in New Brunswick. "They were actually quite proud."
Family or not, Mancini says it wasn't surprising they didn't know about Fulton's work. She never liked to brag. Three months after her death, many even within the local LGBTQ community still don't know.
Mancini met Fulton at Thee Klub, a Barrington Street gay bar where Fulton was one of the few female patrons. One of the first gay women she met upon moving to Halifax at 21, Fulton was a friend, says Mancini, who would climb 24 flights of stairs to visit her because she was frightened of elevators. "We went to every march together," she says.
The two were at the first gay demonstration in Atlantic Canada, held in 1977, opposing censorship at the CBC which had refused to run a public service announcement for the GayLine, a gay help line. That same year the Jury Room bar on Argyle and Prince refused to serve customers who were—or were assumed to be—gay, telling patrons, "We don't want your kind in here."
Fulton, Metcalfe, Deborah Trask and Jim McSwain went to the bar to test the policy. Denied entry, GAE picketed the establishment.
"The management may regret the day they embarked on their anti-gay policy, and other taverns and lounges may soon learn not to make the same mistake," Fulton wrote in GAE's newsletter The Voice. "In future, it will be an embarrassing situation for whoever pushes us around."
"It seems like there was nothing and then there was everything," says Mancini of that era of activism. "Anne was part of all of it."
Fulton was an inaugural volunteer for the GayLine (founded in 1972), founding member of both GAE and the Atlantic Provinces Political Lesbians for Equality. She was on the committee for and contributed to The Voice (Mancini was editor), along with LesbianCanadaLesbienne and The Sisters' Lightship, both one-issue lesbian publications. Fulton also showcased her well-known sense of humour when she mounted Blown with the Wind, casting herself as the Scarlett O'Hara equivalent in a queering of the classic film held during the 1980 Atlantic Conference.
"She certainly stood up for women," says former APPLE and GAE executive member Trask. "In those days there was an overwhelming cluster of men. Anne was always pointing out 'Remember, there's women here too.'"
"We were activists in a time where virtually no battles had been won," says Metcalfe. Though homosexuality was decriminalized in 1969, there were no human rights protections for gays and lesbians in Nova Scotia (that would take three decades) and gay bashing was a regular occurrence.
After her death, her family entrusted Metcalfe with several boxes of Fulton's mementos, including pictures of girlfriends past, the original script for Blown with the Wind and the iconic dishes from the GAE-owned Turret bar. Though important, they're just "not the person," says Metcalfe. "It's a terrible loss of her memory, and her as a person."