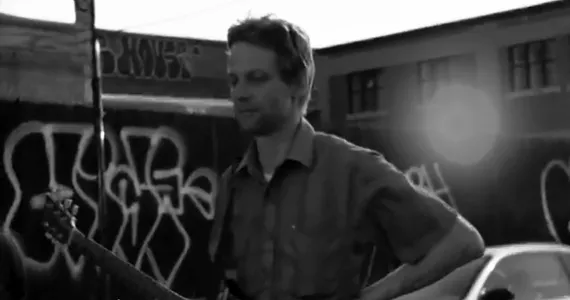 On April 4, guitar superhero Yellow Jacket Avenger (Geoffrey Pye) will play The Seahorse exactly six years after a Seahorse show in 2008, proving that, yes, time is a flat circle. With Chris Pennell (Joel Plaskett Emergency) and Nathan Doucet (Heaven for Real), Yellow Jacket's revolution (his first Halifax gig since 2011) also brings a tape of 2012's Limericks, recorded in rural Quebec where Pye now lives.
"The tape was Nate's idea. It's a comp and recording it was crazy, fun and influenced," says Pye of Poverty in Motion. He's made almost 20 albums in 20 years from quirky, harmonic rock (Feelings, 2007) to orchestral-electric (Branden Town, 2012). Pye is prolific despite rarely touring or playing live.
"I'm not sure why people choose the path of musician anymore, except if they love music," he says of the impulse. "Most people don't love making cheeseburgers, for example, but they do it. Music is a language. I think in that language a lot of the time, so it makes the songs. I seem to need to do it."
Lately, he's been "having fun" adding his large catalogue to Bandcamp, especially albums that are hard to come by in material form. Friday's tape release is a new offering of Yellow Jacket's history.
"I grew up on tapes, mostly, and vinyl, but tapes were special because they were mobile and brought narrative to the music as you went about your day," he says. If Pye's music and voice remind you of anything, it's probably something you already love. Living in Quebec the last few years, Pye's been playing with Montreal folk singer Tessa Kautzman, but now, Wham! Pow! Halifax gets the classic Jacket.
"The relationship I have with Chris and Nathan seems very intuitive and zen," says Pye. In the 2000s, the band lineup shuffled before settling with current power-house trifecta. "Despite our differences in size and hairstyles, we seem to read each other well. I really miss playing and recording with them."
---
Yellow Jacket Avenger w/Heaven For Real, Surveillance
Friday, April 4 at 10pm, $8
The Seahorse Tavern, 1663 Argyle Street