Winter is a terrible season and should go to hell. Anyone who remembers last February in Halifax can attest to the nightmare of poor plowing service. But now you can toss the shovel because these entrepreneurs are offering to Plow Me Out.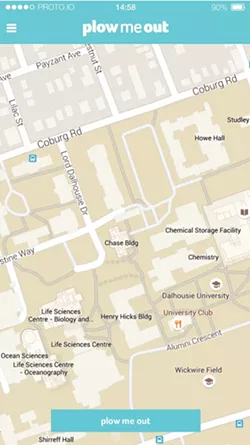 The website and yet-to-launch app are looking to bring the convenience of Uber to the backbreaking labour of snow-clearing. It's the creation of Moncton's Sean Griffith, who's been building the service with his Halifax business partner since last winter.
"It kind of came from a personal pain," says Griffith. He moved into his first house a few years ago and quickly became familiar with Canada's unofficial pastime—driveway shoveling. "There's gotta be a better way to do it. Uber works for cars, so why not for snow plows?"
It's similar to American apps like the even-more-unfortunately-named PlowMe. That Boston company also lets customers request one-time snow removal with the push of a button.
Potential customers provide details about their driveways (including number of cars it can fit, length, gravel or paved) to receive a price quote. From there, the plow job is tendered out to local snow-clearing partners at the touch of a button.
Griffith says the average price is between $30 and $45. "It really depends on how big the driveway is and where we can put snow. That's really the two biggest factors."
PlowMeOut takes a flat 30 percent from those rates, according to Griffith. The rest goes to the plow partners. Five companies with 12 trucks are already signed up with Plow Me Out in Moncton. Halifax currently has four partner companies on board.

Similar to Uber, customers can also rate the plow drivers on promptness and quality of service for the benefit of future customers—an option that would have been nice for the plow operators the municipality contracted-out last winter.