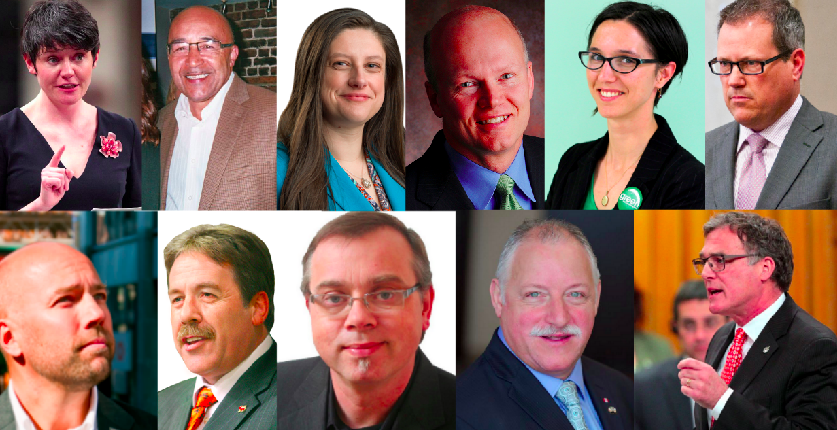 While you were busy soaking up a gorgeously sunny long weekend, Stephen Harper ruined everyone's fun by officially kicking off an 11-week crawl towards October's federal election.
Harper's gambit is a shrewd political maneuver that will empty out Conservative opponents' pockets, tire reporters and generally make the public sick of democracy when October 19 finally arrives.

It's all enough to make you stick your head in some beach sand until summer's over. But we here at The Coast are a gloomy lot of sunless nerds—Morlock-like in our aversion to chillaxin'—so let's jump right into the madness, shall we?

Below is a breakdown of the four federal ridings up for grabs that make up most of the Halifax Regional Municipality. CBC has a list of who's running (at the moment) in all of Nova Scotia's 11 ridings, but the following offers a bit more context on HRM's major battlegrounds. Several ridings are still without some party candidates, but that's likely to change over the next several weeks. It's a long way until election night...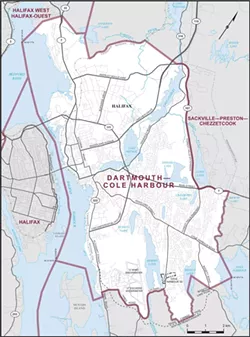 Dartmouth-Cole Harbour
Incumbent
NDP: Robert Chisholm
Chisholm stole away now-mayor Mike Savage's Liberal seat in Dartmouth-Cole Harbour during the 2011 election. Now the former provincial NDP leader will try to retain his seat fighting off another challenger from within City Hall.
Liberal: Darren Fisher
Fisher has been city councillor for Harbourview-Burnside-Dartmouth East since 2009, and is now wading into federal politics. He'll take a leave from Halifax council during his campaign to try and reclaim Chisholm's seat for the Liberals.
Conservative: Jason Cole
The chosen one to revive the Tories in Dartmouth-Cole Harbour (a riding the party hasn't held since 1988, when it was Dartmouth-Halifax East), Cole appears to be lead pastor at the nearby City Heights Church, as well as manager for his family's Perma-Dry company.
Green: Brynn Nheiley
Nheiley is also the interim leader for the provincial Greens, along with a planner at the UPLAND urban planning and design studio in Halifax. She's currently taking a French-language program in Quebec, which delays any campaigning until mid-August.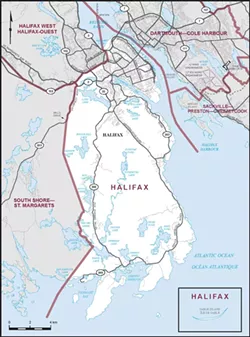 Halifax
Incumbent
NDP: Megan Leslie
Leslie has to be excited about this election. With the latest polls showing the Conservatives faltering, the NDP stands a very strong chance of forming its first federal government. Deputy leader Leslie will be integral in that fight, while facing stiff competition at home from a confident challenger.
Liberal: Andy Fillmore
Fillmore jumps into this election as the Liberals' answer to the NDP. The former urban design manager for Halifax helped bring forward HRMbyDesign. He's probably the strongest opponent Leslie has faced since being elected, but with 52 percent of the vote in 2011, Fillmore has his work cut out for him to overtake the NDP incumbent.
Conservative: Irvine Carvery
Carvery once more throws his hat into the ring for the Conservatives. The longtime community activist, who recently stepped down as president of the Africville Genealogy Society, ran provincially for the Nova Scotia Tories in the last election. He also lost against Megan Leslie for the NDP nomination in 2008.

Green: Thomas Trappenberg
Trappenberg is a Green veteran, having served as the inaugural president of two federal district associations (Halifax and Halifax West). The Dalhousie University computer science professor also helped organize the Green party of Nova Scotia and previously ran as a federal candidate in Halifax West.
Marxist-Leninist: Allan Bezanson
A latecomer to the Halifax race, Bezanson is a longtime activist and previously ran for the ML party in British Columbia and Central Nova against Peter MacKay.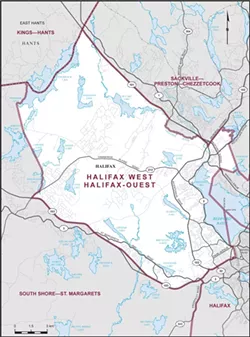 Halifax West
Incumbent
Liberal: Geoff Regan
Regan has held onto Halifax West for the Liberals since 2000, and he'll go for his sixth consecutive win in October. He's proven difficult to beat, but last election there was only a seven percent difference between first and third place. Regan's opponents will look to close that gap even further.
NDP: Joanne Hussey
Hussey will be looking to capitalize on the NDP's momentum to topple Regan's reign. President of the Common Knowledge Research & Consulting company, Hussey has 15 years experience working with Atlantic Canadians on issues of health, family service, racism, discrimination and gender-based violence.

Green: No candidate currently announced
The Greens haven't announced any official candidate, though TV and radio personality Richard Zurawski seems to be contemplating a run. The meteorologist hasn't declared one way or another at the moment, but it wouldn't be Zurawski's first foray into politics. He ran for the Liberals provincially in 2003.

Conservative: Michael McGinnis
Last election, the Conservatives came the closest they had in years to beating Regan. Bruce Pretty jumped the Tories nine points over their 2008 showing.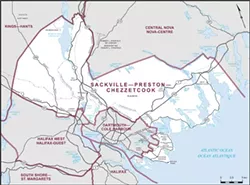 Sackville-Preston-Chezzetcook
Incumbent
NDP: Peter Stoffer
Stoffer is the only MP the people of this riding have known since 1997. The NDP veteran won his seat by just 39 votes over Conservative candidate Ken Streatch, but has dominated every election since. Though the last year has seen rumours of retirement (and a knighthood, of all things), this is Stoffer's race to lose.
Liberal: Darrell Samson
Samson steps up to challenge the heavyweight incumbent for the Liberals. With a career as senior administrator for organizations such as the Halifax Regional School Board and Acadian School Board, Samson will be fighting for a better showing than the four percent achieved by the Liberals in 2011.

Conservatives: Robert Strickland
The Conservatives have placed second in this riding the last two elections, and longtime Beaver Bank resident Strickland hopes to build on those showings.
Green: No candidate currently announced
John Percy took a swing at Stoffer in 2011, but came a distant fourth with only four percent of the vote. Percy recently stepped down from leading the provincial Greens, citing health concerns. Though still listed by the party as its regional contact for the riding, it seems unlikely he'll jump back into a federal race.

Canada will elect its next government in the far-off, distant future of October 19.