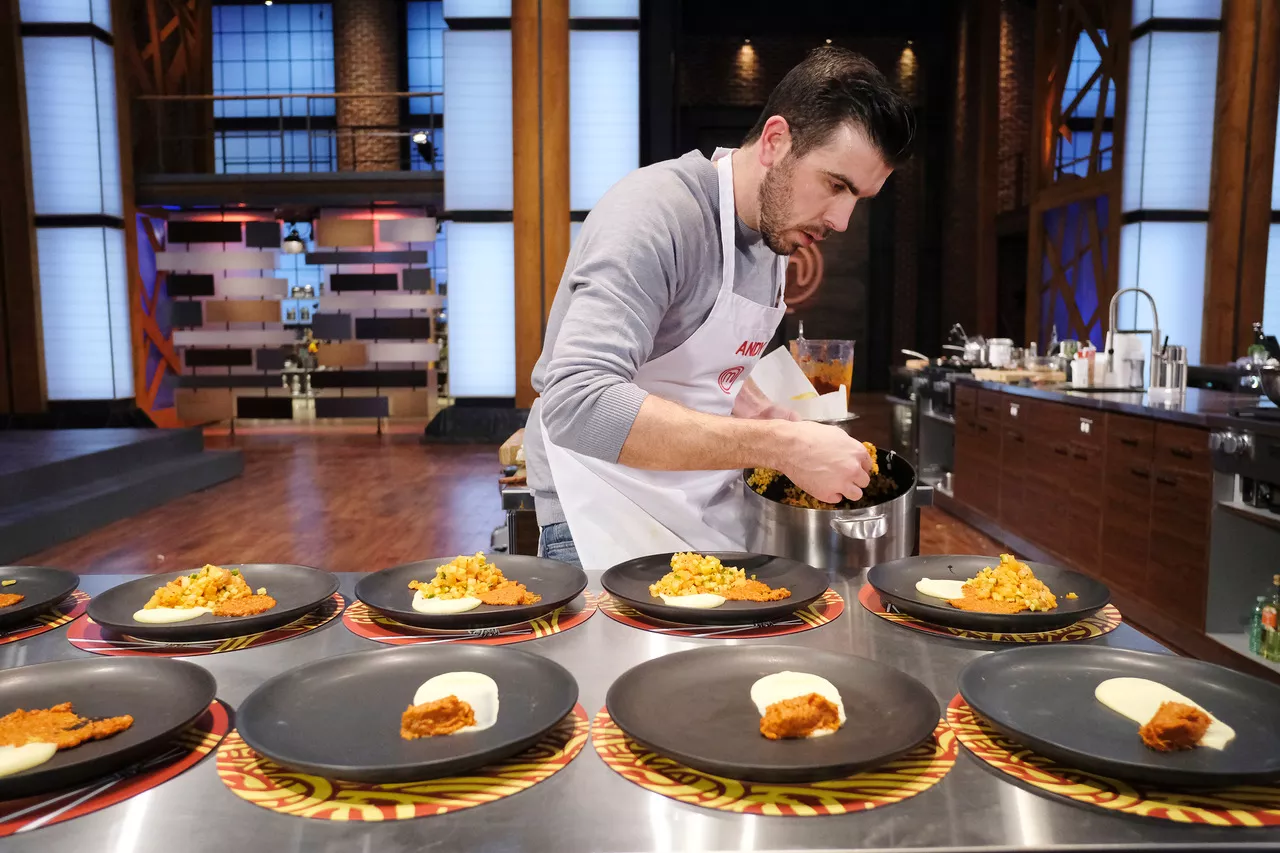 Self-taught cook Andy Hay is the runner-up of
MasterChef Canada
, but he's managed to snag the top spot in the hearts and bellies of people in his hometown.
Tuesday's season finale
saw Hay, who hails from Dartmouth, go head-to-head with 19-year-old Beccy Stables. Although Stables is the youngest competitor to appear on the show, a win for Hay would've been a milestone, too, as an east coaster has yet to take the
MasterChef
title. But this region still has plenty of bragging rights: Hay brought Atlantic flavours such as donair and Newfoundland
toutons
to a national stage and was praised by the judges for it. Now, he plans to keep that culinary momentum going here at home with Andy's East Coast Kitchen.
"I admire the food world, I admire the amazing chefs we have locally. I just want to put in my time and get better, so to one day feel comfortable calling myself a chef."
Hay was multitasking when The Coast caught up with him by phone (a few days before the big reveal). The hype stirred up by the show, as well as
his social media
presence, means he's booked for private dinners on just about every weekend until November.
"It was a thing of pride. I didn't feel pressure, necessarily," Hay says of being the sole east coast representation in season five. "I knew that there were gonna be other [cooks] there that were more technical and more refined, but I knew that—and I truly believe—hard work can beat that if it's focused hard work."
Hay became interested in cooking while visiting south-east Asia with his wife five years ago, as he was particularly enamoured with the street food they came across. "The colours and the smells and the action behind it was just like—oh wow, that's incredible. I love the flavour of that," recalls Hay. "When we got home, I was like, I'm craving these things that I had tasted in Vietnam. I'm going to have to figure out how to cook here."
On a whim, Hay auditioned for
MasterChef Canada
last year. He didn't secure a spot, but he wasn't discouraged and intended to try again. The show's producers even reached out to him before this season's auditions, solidifying his decision to take another crack at it. He told himself: "OK. They remember you, you can do this. Go throw down something really cool and then just perform in front of the camera." If he could do that, Hay knew he'd have a shot. And he did.
Hay's audition dish was exactly what you might expect from a Nova Scotian cook—seafood—with his own personal twist. The "surf and earth" dish was butter-poached lobster with mushrooms: pickled chanterelles and roasted king oyster mushrooms with a curry sauce and orange fennel.
"It was kind of representative of my style of food, where it's international flavours infused with Nova Scotia cuisine and good Nova Scotia products, I guess."
From there, it was a whirlwind. Hay found himself heading to Toronto with 20 others cooks, which was chopped down to the top 12 over a single weekend. As Hay continued to move up, his confidence and comfort in the kitchen grew. "It was all small goals that kind of led me through it, but I think in the beginning, I didn't even think it was in the realm of possibility that I could've made it as far as I did," says Hay. He's even gotten the hang of baking, which was his initial weakness (um, did you see those
touton
doughnuts?).
Back at home, Hay is still invested in his learning process first and foremost. If the public response is any indication, many Nova Scotians will be waiting and
drooling
as they anticipate the next leg of his journey.
"I'm all in on this, so I'm just committed to getting better at the craft," he says. "That's the north star for me."