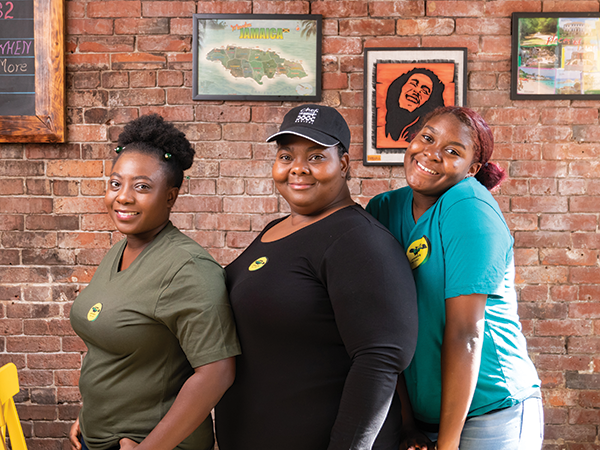 Brawta Jamaican Jerk Joint
1567 Grafton Street
---
Baking was always a side hustle for Christine Allen, a hobby she'd been working at since she was a six-year-old in Jamaica, burning things in her mother's kitchen. Heavily influenced by the women in her life and their handed-down recipes, Allen's first foray into selling her food—long before she brought Brawta Jamaican Jerk Joint to life—came thanks to her grandmother's Christmas fruit cake.
"At 17 I started a little baking business after my aunt taught me what she'd learned from my grandmother," she says. "Christmas cakes are really popular in Jamaica, it's a dark fruit cake with fruit that's soaking in rum sometimes for a year. They sold off like crazy, and every year after that they just grew."
With her cakes on the back-burner, she pursued community development and social work. While she had visions of running her own bakeshop or restaurant one day, Allen says she didn't feel the need to take it to the next level in Jamaica—there wasn't a void for her fill, and she loved cooking as a complement to her career.
In 2014, Allen and her family moved to Nova Scotia—she says, "the quality of life I wanted for them, I wasn't really getting there"—and continued chasing a career in community health care. "I wasn't able to cook as often for my family, I was busy and I decided I need to find somewhere to get them food," she says. But the grocery store Jamaican patties just weren't cutting it. "I thought, if I can bake—I can make Jamaican patties."
So she did. Then friends, and friends of friends, began asking to buy her patties for themselves. By 2016, the beginnings of Brawta were born.
Allen started selling at various famers' markets in town and expanding her menu to keep up with the requests of regulars: jerk chicken, oxtail, curry goat and dumplings.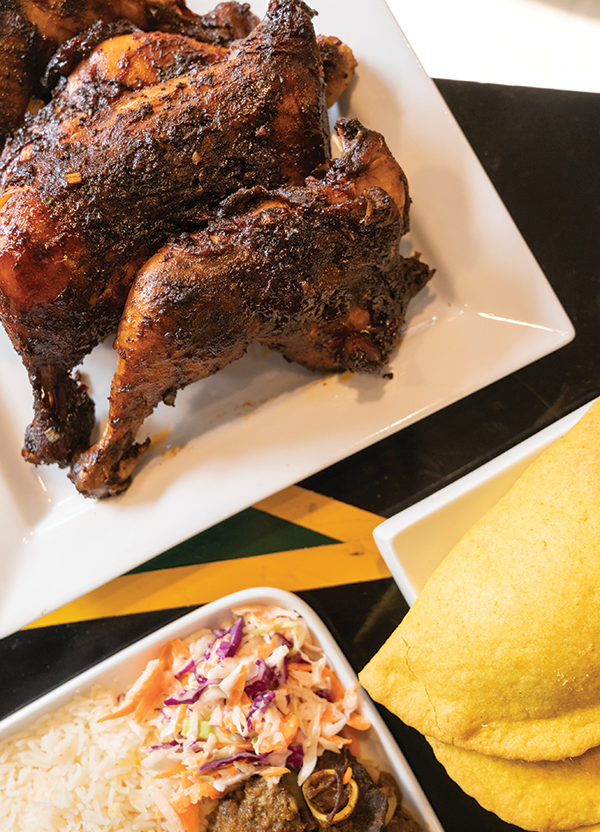 "I really wanted to give people authentic food, what I would have at home. Good from the ground, from the earth, flavourful food," she says. "Not everyone can afford to take a vacation and people are curious about what Jamaican food is—and we want to do it right. We are not going to water it down."
Finally, in August Allen opened a permanent location for her jerk joint on Grafton Street, right next to pizza corner, and made her two young daughters her business partners. She wanted them to feel a sense of ownership.
Brawta serves lunch and dinner from a relaxed, open concept space where the the vibe is casual, the music is playful and boisterous conversation is not just welcomed, but encouraged. (The louder, the better, she says.)On its menu, you'll find an evolving selection of authentic dishes—including the Christmas cake that started it all, Naomi's fruit cake.
"I've always seen myself having a place like this, that vision became clearer when I came here," Allen says. "I wanted to have a little place, somewhere people can feel comfortable, where I can interact with people. I don't see this as just somewhere just for food. It's more of a feeling. I want people to be able to enjoy the atmosphere, feel comfortable and chat. That's how it is in Jamaica—we're laid back."