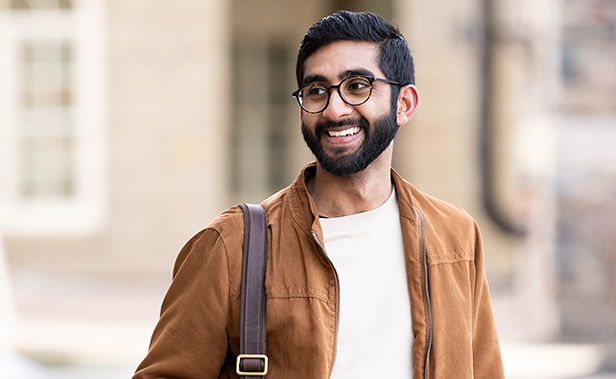 "I've always been interested in many different things and I choose to do them all, unapologetically," explains Sidath "Sid" Paramee Rankaduwa.
At just 22, Rankaduwa is an alumnus of Dalhousie University with a rather unusual combined Bachelor degree in both music and neuroscience. Through his craft, he's exploring society's intersectional interplay between the brain, culture, musicology and creative practice.
Rankaduwa's family moved to Halifax from Prince Edward Island when he was in grade three. He remembers, even at a young age, his family engaging with both the Hindu and Buddhist communities from his childhood.
"I remember asking my dad, 'What is a dead man?'" Rankaduwa recalls. "In his infinite wisdom, he decided not to hide the truth from me. He told me, 'People die and that's going to happen to everyone.'"
Now a grown man, he still remembers that moment vividly. "It was precisely when I formed the distinct thought that I was Buddhist."
Rankaduwa believes his foray into the emerging field of neuro-ethics education— which integrates science, social science, religion and philosophical perspectives into ethics education—stems in part from the plurality of religious and cultural traditions he experienced in his upbringing.
"We're living in an interesting time where the questions we can answer about ourselves are so new that there are new problems," he says.
With nearly a decade of experience in theatre, recitals and ensembles, Rankaduwa has also learned a lot about improvisation. Recent performances include last summer's debut with Theatre Baddeck as Ifty in Pocket Rocket, productions with Neptune Theatre's Youth Performance Company, the Fountain School of Performing Arts' staging of The Birds and Tales of the North with the choral theatre group Xara. He's also facilitated music therapy at St. Agnes Junior High School for special-needs students and acted as musical accompaniment for The Big Sing.
Recently, Rankaduwa returned to his alma mater as faculty, teaching guitar to a class of more than 100 students. He's also assisting Sageev Oore—an award-winning concert pianist, composer and computer science professor at Dalhousie—with the development of machine learning programs. He also likes to swing dance, but just when he has free time.
Rankaduwa is currently looking to apply for his masters in philosophy—with hopes to maybe pursue a medical degree further down the line. In academia, he's observed a lack of differing ideologies in higher learning—especially in the humanities.
"Instead of presenting the facts and providing evidence to support arguments on both sides, you get the facts with the narrative of how you should both interpret and believe," he says. "There's this idea that if you give someone a platform to speak their ideas, it's the same as validating their arguments. That taking the time to understand where someone is coming from is the same as agreeing with them. I don't equate the two."
The pathologically cheerful six-string aficionado also credits his pursuit to master musicianship and mindfulness meditation as formative practices. Both crafts require the fluid interchange of non-judgmental self-awareness and discipline before they can become conduits for joy.
"I think a lot of people get into meditation as a way of kind of limiting their anxiety, but I think what captivated me was that it's an empirical way to study one's mind," he explains. "The only way you can meditate for an hour is if you're willing to start over at least 100 times in the middle of that hour. "
Rankaduwa's most humbling lesson, however, has been learning how to fail well.
"Instead of falling in love with the success, fall in love with the act and what you can learn from it," he says. "That is why I've kind of thrown myself into all these different fields with unknown destinations. I've consciously been falling in love with being a beginner, which also means growing comfortable sucking at things."