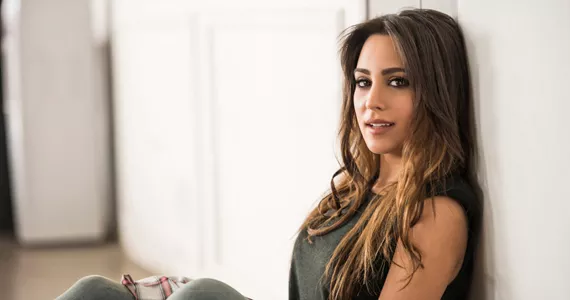 Those unfamiliar with Mayssa Karaa will likely have heard her haunting Arabic cover of Jefferson Airplane's "White Rabbit" featured in last year's American Hustle, a film boasting one of the best soundtracks of 2013. This weekend she will be the special guest at the closing ceremonies of the 13th Annual Lebanese Festival in Halifax.
Born in Lebanon in 1989, Karaa began singing at a very young age. Her peers and teachers immediately recognized her talent and she soon enrolled in the Conservatory of Beirut where she honed her craft and deepened her love of music. It wasn't until Karaa relocated to Boston in 2006 that her successes started pouring in. She was accepted to the prestigious Berklee College of Music, performed for WWII veterans at Faneuil Hall, and was introduced to renowned Italian tenor Pasquale Esposito, who she now tours with on a regular basis.
"Mayssa has the capability to cross over like no other artist before her," says her producer and manager, Dawn Elder. "The unique colours, tones, and grittiness in her voice, and her versatility in both English, Arabic, not to mention Persian, Italian and French, is unprecedented. Her passion for rock music and desire to bring an organic fusion with Middle Eastern music to her songs is both refreshing and exciting."
Similar praise was bestowed upon Karaa at last year's American Hustle premiere in Beirut, where she was presented with an award by Lebanon's Cultural Minister Gaby Layoun.
"She has created a significant artistic bridge between our culture and audiences around the world," says Layoun. "She has made an impact both in Hollywood and as a role model for young women here and abroad. In a world filled with sad days, this is one that brings us great joy and pride for Lebanon."
Her debut album will be released early next year and promises to reflect Karaa's eclectic tastes in pop, rock and Arabic music.
"This is who I am," says Karaa. "Not Middle Eastern all the way, not rock all the way. I am creating my own style."
---
Mayssa Karaa
Sunday, July 13 at 7:30pm
Olympic Community Centre, 2304 Hunter Street
lebanesefestival.ca