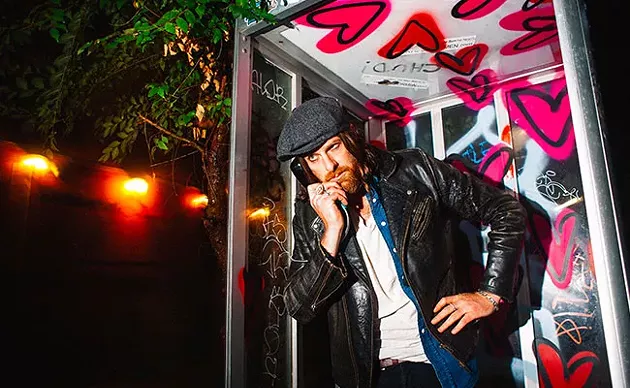 Matt Mays
w/July Talk, The Beaches

Saturday, January 20, 8pm
Scotiabank Centre, 1800 Argyle Street
$37.50-$57.50
sonicconcerts.com
Matt Mays camped out overnight to get tickets for a Neil Young & Crazy Horse show at the arena formerly known as the Metro Centre on November 5, 1996. He got tickets 10 rows back, but pushed ahead to the front row, perched in front of Young for the whole show. Twenty-two years later, Mays is set to headline in the same building.
"I remember turning around and looking at the crowd when all the lights came on and the chorus of 'Rockin' In the Free World' and everyone going bananas," says Mays, who grew up in Dartmouth and now lives in Toronto. "It was the first time I was in an arena when someone had the whole place in the palm of their hand. It was pretty cool."
Mays will play Saturday's show at the Scotiabank Centre with July Talk and The Beaches, for a night with enough rock and roll to shake the dust off the championship banners hanging in the rafters.
"People are going to get their rock and roll fix for sure, that's one thing I do know," he says. "It's not going to be easy to follow those two bands either. We're excited to really step it up."
The Halifax show is part of a cross-Canada tour in support of Once Upon a Hell of a Time, his first album in five years, released in October. In that time, Mays recorded at Elliot Smith's studio in Los Angeles, but it's the songs he recorded in Montreal, with Loel Campbell of Wintersleep, that make up the new album. They would work at Wintersleep's studio from 7pm until 7am every day.
"Him and I are good buds, we hang out all the time. We just sort of decided to start jamming at Wintersleep's jam space one night," says Mays, who lived with Campbell for awhile before moving to his own apartment. The record "sort of put itself together. It was a lot of fun, it came really easy. Loel and I just had a lot of laughs."
Of the new songs, "Faint of Heart" is his favourite to play live. "I think the guys really just kick it in the ass really hard," he says.
Mays has experience playing arena shows, mostly as an opening act. It marks a big change from the early days when he would play solo gigs to a handful of people at the Dandelion Cafe on Spring Garden Road.
"It's a matter of trying to rise to the occasion and play to the room," he says. "I always try to play a small club like a bigger venue and play a bigger venue like a concert hall and play concert halls like arenas and play arenas like stadiums. Just kind of do the Bruce Lee one-inch-punch and try and go bigger than the actual event."