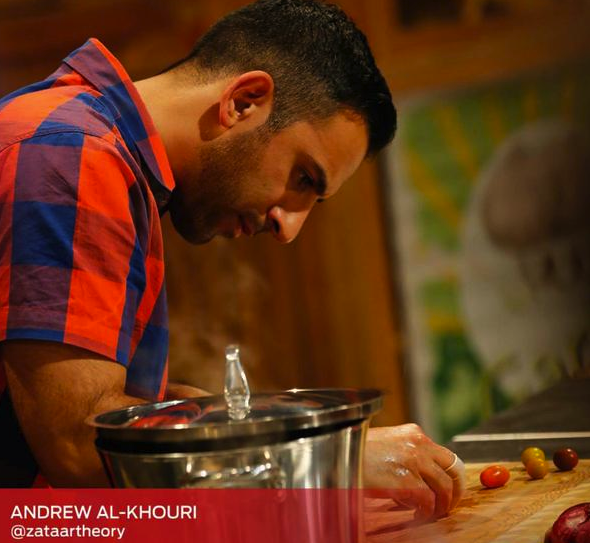 I chatted with Andrew Al-Khouri—a musician and tax man who cooks everything from scratch, doesn't watch TV and happens to be Halifax's representative in Master Chef Canada's second season—over a piece of carrot cake. Get to know him before the show premieres this Sunday, February 1 on CTV after that big football thing.
Tell me a little bit about yourself. What are you doing when you're not cooking?
I'm one of those people who tries to get their hands into everything. So, I've been cooking my whole life, but I used to be a musician full-time, and I actually just recorded an album called Whiskey Burns. I was born and raised in Cape Breton, came up for university and stayed here. And now I work as a tax officer. The whole story for me [on Master Chef] is that I work in an office job that I and I want to make a change, and move into the culinary industry.
So you're a tax officer, a musician, a cook...
It doesn't stop there. I have a woodworking company as well, Exotic Woodcuts, which makes serving boards made out of olive trees. I sell those to restaurants and craft shows. I started a catering company in December called Zatar Catering, it's mostly private chef services, and I've been doing that on the weekends, on the side.
How'd you get into food in the first place?
For Middle Eastern families, food is very central. My parents moved over from Syria and came to Cape Breton, of all places, but in traditional Middle Eastern culture men don't really cook a whole lot in the family setting. I had a troubled relationship with my father and for me cooking was a sort of rebellion. My first memories of cooking are sitting on the countertop when he wanted me to the be out in the yard doing labour-type work. As I grew up I just got obsessed with food. Obsessed. I don't own a can or a loaf of bread, I make everything from scratch...pasta, everything. Something I believe is you get comfort from logical processes, and happiness from creative processes.
Does a lot of your inspiration come from Middle Eastern style food?
I match ethnic cuisine, Middle Eastern at the centre but all ethnic cuisine, I match that with French technique. That's where my creative fusion is usually based. I think it lists my audition dish, donair gnocchi, which is pretty hilarious... [bursts into laughter]
Yeah, what the hell is that?
They asked me to provide a "signature dish" and I have some really beautiful ones, but I wanted something that spoke to Halifax and represented my vibe for this competition. So, one of my favourite things to make is gnocchi and I often host donair and shawarma parties in the backyard, so when I was coming up with the concept I was like—this is going to be the stupidest thing ever. It was a novelty, but when I made it I was like 'this is damn good'. The judges are either going to love it or hate it. The dish cost less that two dollars to make, it's essentially ground beef, flour, eggs and a sweet donair sauce.
What made you want to be on the show?
I wanted to be able to spark a change for myself. I'm in a rut, I'm doing something that doesn't give me happiness day-to-day so I thought this might be able to insight some change into my life so I can transition into something that fulfills me. And I'm a little bit of a show off, generally.
There's a lot of strategy involved in reality TV, what do you think you've got going for you?
I'm extremely competitive and I'm a strategist. If I play boardgames or video games it has to be a strategic game, I love chess. I think that's going to play in my favour, because I know it's not only about what you cook. I went into it with the mind set that I'm running my own race. Whenever anyone asked me for advice I always gave my honest opinion, and never tried to screw anyone over or anything like that…it's just not my style. I like to win fair and square. I'm not going to knock anyone's knees out to get ahead.
Watch this season's trailer here.