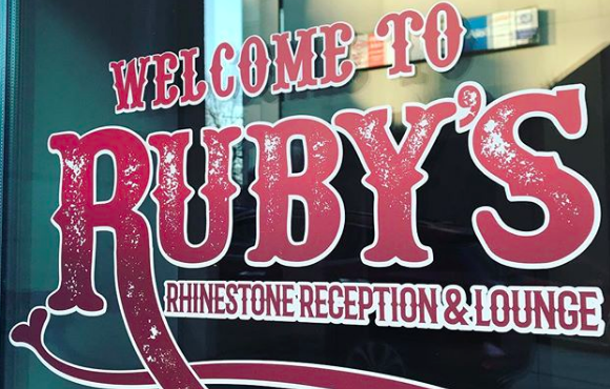 Ruby's Rhinestone Reception and Lounge
has
only been open a few months and already the Salter Street business has seen a serious turnover in staff.
Five employees of the downtown country bar jointly walked out three weeks ago over allegations that owner Steve
Caryi
failed to provide a safe work environment.
In a hand-written complaint submitted to management, bartender Jessica Sundblad states that in her three weeks of employment she was repeatedly sexually harassed by customers, and the bar's owner did little to address it.
During a mandatory staff meeting that same week, manager Kristy Sutherland told
Caryi
that several of the employees felt unhappy with the work environment at Ruby's. According to several employees present,
Caryi
responded by stating that wasn't his problem.
"He put his hand up and said it's not his job to make us happy," Sundblad says.
So the five employees quit. Three servers, two of whom had just been hired, chose to remain.
Sundblad's account of her complaint and the resulting resignations is backed by the four other employees who quit, three of whom asked to remain anonymous so as to not impact future employment.
The employees' timeline of events was presented to
Caryi
by The Coast. He responded with a letter confirming several aspects of Sundblad's story while refuting outright her claims that he treated her inappropriately and didn't take her accusations seriously.
Caryi
says the workers didn't specify a reason for quitting en masse and speculates it was about money.
"I think it was a short-sighted attempt to negotiate more compensation," he writes via email.
All of the ex-employees deny money had anything to do with their decision to leave Ruby's. None of the workers had other jobs lined up before quitting. Most are still looking for employment.
Sundblad, a Master's of journalism student at the University of King's College, says she was only able to leave the job because she could afford to survive without the income for a couple of months.
"It makes me really sad to think that someday if this happens again, I might not be in the same position of privilege where I can just quit a job or walk away from it," she says. "That's not always a
realistic
thing or a reality for all women or people in general."
"Nobody should have to be taking this home with them, or crying at work, or after work...There needs to be some protection and clearly, there hasn't been."

tweet this
The Florida-based
Caryi
is also a local property developer who owns ComVest Commercial. He made
headlines last year
after purchasing the Hollis Street building that's home to the Halifax Club.
Ruby's, which opened back in April, was the business owner's
attempt to inject a southern, cowboy atmosphere
into Halifax's bar scene. But employees say the environment quickly crossed the line from appropriate to unsafe.
During one shift, Sundblad says a regular customer made a graphic remark about performing oral sex on her. In her written complaint, she writes that when the situation was brought to
Caryi
, he "laughed, told me to lighten up" and encouraged her to let the customer apologize.
Two days later, the same customer sat at the bar for her entire shift, making her feel uncomfortable. Sundblad states in her complaint to management that
Caryi
encouraged her to keep serving the customer drinks and even bought the man a beer himself.
The business owner admits to buying the patron a drink but says he was not aware at the time of the man's prior behaviour. The customer has since been banned from Ruby's.
That same week, Sundblad visited Ruby's with her friends when she wasn't working.
Caryi
was also present with a party of people.
In her written complaint, Sundblad says a customer who was part of
Caryi's
group continually called her "baby" even after being told to stop and slapped her on the ass. He also graphically told her he wanted to have sex with her.
Before leaving that night, Sundblad writes that
Caryi
kissed her on the cheek and told her how "sexy" she was. When she approached him about those events a few days later, she claims
Caryi
had no memory of the kiss or his comment.
Caryi
refutes this version of events entirely. He says he investigated the story and other allegations by speaking with the staff on duty and reviewing all security tapes.
"There's simply no truth to that claim," writes
Caryi
. "No other staff on duty recalled anything like this taking place."
Sundblad says she asked to see the security tapes in question but was told they could no longer be found.
Both Sundblad and
Caryi
admit they were drinking that night, though neither claim to excess.
Caryi
does say he bought Sundblad and her friends two rounds that evening.
Working that night behind the bar was one of the five employees who later quit. She says she didn't see Sundblad leave or witness
Caryi's
alleged actions. She does tell The Coast her boss seemed visibly intoxicated and Sundblad appeared uncomfortable with his group of friends.
The business owner says that, while he was shocked by Sundblad's concerns, he "set other work aside to ensure she was not denied the opportunity to fully share her version of events."
He also offered to employ her elsewhere if she was uncomfortable serving customers at Ruby's. She declined.
"I told him that I wasn't looking to be put somewhere else in the business," says Sundblad. "I was just looking to not be sexually harassed at work."
After meeting with
Caryi
about her complaint, Sundblad drafted a blank resignation letter and shared it with other staff who were also unhappy.
"A lot of the other girls had also been dealing with a lot of these issues, but no one had really said anything," says Sundblad about the workplace stress at Ruby's. "Nobody should have to be taking this home with them, or crying at work, or after work...There needs to be some protection and clearly, there hasn't been."
Kayla Lyn Poole had been working at Ruby's for two months. It was her first service industry job. The 22-year-old says she wasn't surprised to see inappropriate behaviour from customers but was shocked that it could come from an employer. It's why she chose to sign Sundblad's letter.
"I pride myself on my personality and who I am as a person, and I don't want to give my time or my effort to somebody that's going to treat their employees like that," says Poole. "I think that everyone should feel comfortable in what they're doing and you should be able to express your opinions and express yourself if you feel unsafe."
Caryi
says he takes any allegations made against him or his business "very seriously," and that he aims to "run operations that are hospitable and comfortable for both our customers and our staff."
"I believe my staff and I have responded appropriately to Jessica's concerns," he writes. "If she does not agree, there are other venues where she can seek resolution."
None of the employees has filed any complaints with the Labour Board, though those who spoke to The Coast said it was an option they're still considering.
Sundblad says she doesn't really care what happens to Ruby's now that she's no longer employed at the bar, but she does want women in the local service industry to know they deserve to be treated with respect.
"I just hope that these girls can walk away from this and know that's not how you deserve to be treated," she says. "Everyone has a voice, and there's power in your voice."