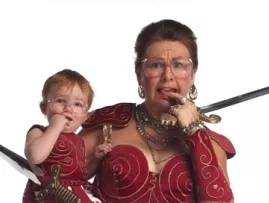 If you'd rather laugh about problems than cry about them (and who wouldn't?), then Dancing With Rage will strike just the right chord. The indomitable Mary Walsh takes on the absurdities of politics, the frustrations of everyday life and true, heart-wrenching tragedies with laser-sharp humour that breeds belly laughs over tears.
The 90-minute one-woman show is peopled by some of Walsh's most beloved characters, from the ball-clutching, misogynistic Dakey Dunn to delightfully cranky Eulalia Turpin.
But there's no doubt that Dancing With Rage belongs squarely to Marg Delahunty and her fearless warrior princess alter ego. By exploring the beginnings of these two characters, the show reveals just how humour can be born of sorrow and how rage can protect a tender heart.
This show is visually engaging, making great use of projections that set the scene and allow the stage to be peopled by several characters at once. It's also highly entertaining to watch Walsh transform himself, stripping down to some nifty, shifty undergarments, teasing her hair and applying her in-you-face green eye shadow.

Dancing With Rage is part of Eastern Front Theatre's Stages Festival that continues until June 9. For information about other shows visit easternfrontheatre.com