The Coast sits down with Martha Paynter to talk about abortion on the big screen. From drawn-out, dramatic representations to quick and empowering montages—set to "Silent Night"—Paynter shares her thoughts on seven noteworthy examples of abortion on TV and in the movies.
"How many billion labours and births have we seen on screen? There are 100,000 abortions a year in this country. So, we absolutely need to have these representations to normalize this aspect of reproductive health care," says Paynter. "But misinformation is a really big problem in health care. The danger of misinformation, of incorrect portrayals is that people will be afraid, and not even seek the health care they need."
1. Dirty Dancing
"So, Penny has to have an abortion, but not everything is shown. It's just shown that she basically ended up butchered, and needed help.
That was early exposure. Dirty Dancing was pre-Morgentaler decision in Canada. It just shows that if you do not have safe access to abortion, people will use other means. Dirty Dancing was a really important movie, and a cult favourite watched by I can't even imagine how many people, how many times. Everybody's seen Dirty Dancing more than once.
I know in her research prior to all the changes in PEI, Colleen MacQuarrie was involved in a research team that did hear about women in PEI using illegal and self-harming means to get abortions. So we know it happens."
2. Degrassi High
season 1, episode 2
"In 1989, immediately after the Morgentaler decision, Degrassi High was an incredibly popular show. And that does show realistically what people faced going into a clinic [at the time]. The intimidation and scare tactics, lies, violence that people face. In in the late '80s, early '90s, that was a time of a lot of lawsuits raised, a lot of Morgentaler's work was happening at that time. And there was very aggressive anti-abortion protesting, including the firebombing of [Morgentaler's Toronto Abortion] clinic in 1992. It was an intense time in the history of abortion access in Canada. And that clip on Degrassi shows very realistically what people would face.
So here in Nova Scotia, our only abortion clinic is within a hospital. It's a locked unit, you can't get into it. It's several stories up. And we do abortions every day of the week. And so we don't really have protesters that come. You don't know what somebody is going into the QE2 for. Having services within a hospital anonymizes people and makes it a lot safer in that sense.

The other thing that's interesting about that, is that the twins…weren't pro-choice people. And Heather gave her sister a really hard time. What Spike says [when asked for advice from Heather] is beautiful, and a really important message that everybody should hear: That what's right for me is not necessarily right for somebody else. And it is it's not up to me to determine what somebody else does. And it's pretty basic, but it's really profound. And I like that Heather supported her sister at the end."
3. Grey's Anatomy
season 7, episode 22/season 8, episode 1
"It's just very straightforward. And that's the reality. Yes, a lot of abortion patients are young people who haven't quite figured out how to manage their reproduction and end up with an unplanned pregnancy. But it also happens to professionals. It also happens to people who already have a bunch of children. It happens to all kinds of people.
In 2011, this had to be shown terms of…she had to have an extraordinarily valuable career and be this force who contributes so much to society as a brilliant surgeon. And that makes it justifiable. And almost 10 years later, I think we are at a point where you can just not want it.
Christina's abortion [is] very medical, very anaesthetized, very sterilized. They make it seem like it's a big operation. That's not the reality at our abortion clinics. And it's not the reality in a lot of places where abortion is a procedure. A surgical abortion isn't always done an operating theatre with full sterile fields."

4. Rita
season 2, episode 1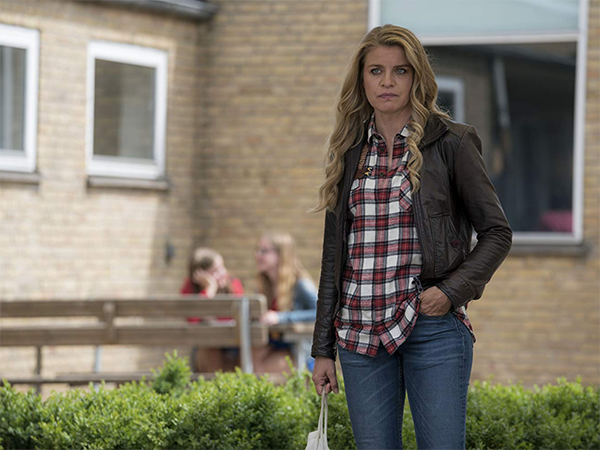 "In

Rita,

you get a woman in Europe, who just gets the pills and goes home and takes them. It's not a big deal. In Europe, they've had Myfegymiso for 30 years, it's a normal part of reproductive health care. Rita is an older professional, and she has an affair, and she has an abortion. It's the only of these examples where the medical abortion is chosen. And when you choose medical abortion, it's not very dramatic. You take the pill, and you have a miscarriage at home. And so you don't have the operative theatre, you don't have all the health professionals looking at you. None of that happens. So it's not as cinematic I guess. But that's what happens. In reality, you get your prescription at the pharmacy, and then you go home, and you take the pills. So I appreciated that, because it's the only representation of medical abortion that I can think of, and it's very straightforward. Which is 99 percent of the time how a medical abortion proceeds.



[Right now in Canada], it's mostly an issue about eligibility. Do people have access to the things they need to have access to, in order to be eligible for medical abortion? Are people aware of their bodies enough that they catch that they're pregnant? And depending on the circumstance you might need a little bit more time off work. Because the surgical abortion is done in 15 minutes, whereas a medical abortion can take a couple of days."
5. Obvious Child
"The only thing [that's different] about this one is that she struggles to find the money. [The difference in Canada is] that only at a few places, as reported recently by the Globe and Mail, would you ever have to find the money [for an abortion]. You should not have to pay for it anywhere. But then it just depicts it as a positive experience in her life. And she makes the right decision for herself and she's well-received. And that's the reality. For most people. This is a pretty straightforward decision.
We don't talk enough about how every single one of us knows someone who's had an abortion. We also saw when her mom tells her that she's had an abortion, you know, a third of women have an abortion. So that means a third of our mothers have had an abortion. It just does a really good job of normalizing it."
6. Scandal
season 5, episode 9
"It's the same with Grey's Anatomy in that a lot of people saw it. It's very similar: It's by Shonda Rhimes, it's a woman of colour. It's important that it's not just white women who are represented having abortions. It's an extremely professional, has-her-stuff-together woman. But also, the actual procedure isn't given much airtime... Just think about that. When we only give a minute of airtime to a really positive decision for someone, that's censoring the reality of how normal and generally positive this decision and health care experience is for people, right?"
7. Shrill
season 1, episode 1
"It is the best. I love how they covered how the pharmacist didn't educate Annie about how Plan B doesn't work if you're over 175 pounds. So the show is doing some sexual health education right there.
And then in the actual abortion, the physician was very realistic, she's freezing the cervix, and she starts the dilation, opening up the cervix. She's talking her way through it and explains 'I'm two-thirds of the way done the procedure.'
And I loved her friend was at her side but unfortunately, that's not how things work at our clinic here. Friends and family have to wait in the waiting room. But there is a nurse at your side, holding your hand and just supporting you, and I just loved how it was so supportive, and realistic, and kind.
And then afterwards, Annie is able to say, 'Oh, I made that decision about my body. And I'm going to make some good decisions about my life. And I'm not going to let people treat me badly.' This show recognizes that this is not a horrible part of people's lives. It's the time that they can take some control and can direct their future. And that's not bad."