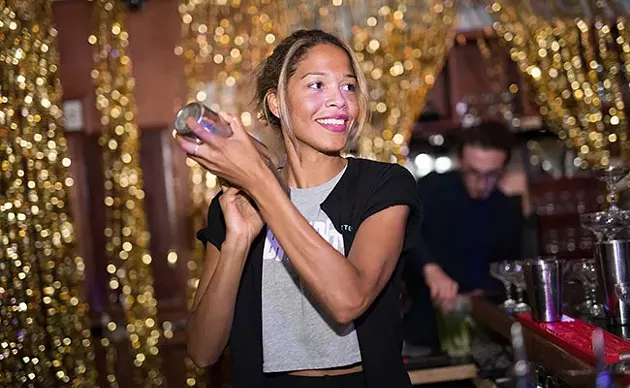 Wasabi, sake and pickled ginger are three flavours most people expect to find in a Japanese restaurant, not in a cocktail, but Marika Bouchard thought it was worth a shot.
"It's fun to experiment with the ingredients you think might not work," Bouchard says. "I love getting behind the bar and creating different things—it's like a blank canvas."
Black Sheep bartender and Made With Love finalist, Bouchard brought her cocktail of choice—Ascending The Fall—to Canada's Most Imaginative Bartender competition in Toronto last week. As one of 10 semi-finalists from across the country, Bouchard was the only bartender representing Atlantic Canada. The winners, James Bailey-León from Toronto and Max Curzon-Price from Vancouver, will compete at the nationals in London, England in September.
On top of wasabi and sake, Bouchard's Ascending the Fall is made with green apple juice, lime juice, ginger and candied pickled ginger for the garnish, which is shaped to resemble a fishtail. "The drink is based off an ancient legend about a koi fish who became a golden dragon," Bouchard explains.
As the Chinese legend goes, a school of koi were swimming up a river and came across a waterfall. Upon reaching the falls, many turned back, but a small group tried to jump over the waterfall. After a hundred years of jumping, one fish finally reached the top. The gods recognized the fish for its perseverance and determination by turning it into a golden dragon—the image of power and strength.
"It's a reference to my journey as a bartender," Bouchard says. "In life, we constantly find ourselves facing fears, doubts and obstacles, and we just have to keep pushing to make it."
One obstacle Bouchard faces as a bartender is the nerves that come with competitions. During her first Made With Love challenge, she was so tense she almost forgot to add the alcohol. "It's funny to look back on how far I've come," Bouchard says. "Now I constantly remind myself to put in the alcohol!"
Despite the nerves, competitions have given Bouchard confidence to experiment with new flavours and expand her palate. "Competing is helping me grow into this whole new entity that I didn't think I would be able to become," she says, already preparing for Made With Love's next event this autumn.
Bouchard says the bartending scene in Halifax is close-knit and supportive. In the past, Halifax wasn't a city where bartenders could showcase their cocktails for
Most
Imaginative Bartender. They would have to travel to Toronto or Montreal to apply. But this year, 10 local bartenders generated enough interest to convince judges to
come
see their cocktails. "It was all of us supporting and pushing each other to apply," Bouchard says. "All the bartenders know each other and we've grown to be a nice little family."
Bouchard's interest in bartending began at age 18 when she scored a job at a small restaurant in Montreal making rum and cokes. She was young and excited to be behind the bar, and the excitement never really left. "I just like giving people a good experience," Bouchard says. "I want to share what I know about the craft and give everybody a great feeling."
After moving to Halifax, Bouchard expanded her mixology repertoire at Onyx (now East of Grafton) and then joined Black Sheep's team where her co-workers encouraged her to pursue competitions.
Bouchard compares her bartending style to pop music: Fun, new and always entertaining. She uses whatever ingredients she can get her hands on, and loves to chat up guests as she mixes. "I'm super-talkative and super-social," Bouchard says. "I also love hearing people's stories and how their day went."
Catch Bouchard on Dresden this summer to try her orange blossom sangria—which also includes sake—or order Radle Me This, Black Sheep's boozy bourbon
radler
.